Auxiliary Bishop of Toronto 1976-1990 | Archbishop of Toronto 1990-2006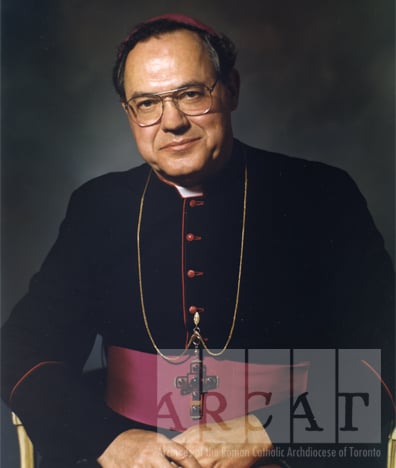 Archives of the Roman Catholic Archdiocese of Toronto, PH 19/09CP
Photograph of Bishop Ambrozic by Sesar Studio, Toronto, July 1990
27 Jan 1930 | Date of Birth
04 Jun 1955 | Ordained Priest
26 Mar 1976 | Appointed Auxiliary Bishop of Toronto
27 May 1976 | Consecrated Bishop
22 May 1986 | Appointed Coadjutor Archbishop of Toronto
17 Mar 1990 | Succeeded as 11th Ordinary of Toronto
18 Feb 1998 | Elevated to Cardinal
16 Dec 2006 | Resigned
26 Aug 2011 | Date of Death
Aloysius Matthew Ambrozic was born in Gaberje, Slovenia on January 27, 1930. In September of 1948 he and his family immigrated to Canada where he studied philosophy and theology at St. Augustine's Seminary. On June 4, 1955, he was ordained priest by Cardinal McGuigan in St. Michael's Cathedral. The first two years of his priesthood were spent as a curate at St. Teresa's Church in Port Colborne, Ontario and a professor of Latin at St. Augustine's Seminary.
Between 1957 and 1960, Father Ambrozic obtained the degrees of Licentiate in Theology and Licentiate of Sacred Scripture at the Angelicum and Pontifical Biblical Institute in Rome. Upon his return to Toronto, he was a professor of Scripture at the Seminary until 1967. He then went to Germany where he studied for and obtained his Doctorate of Theology. He became a professor at the Toronto School of Theology and then Dean of Studies at St. Augustine's Seminary until 1976.
On March 26, 1976, Father Ambrozic was appointed Auxiliary Bishop of Toronto and was consecrated at St. Michael's Cathedral, May 27, 1976 by Archbishop Pocock. Bishop Ambrozic was responsible for the central region of the archdiocese as well as all ethnic communities and parishes. He examined the religious education programs in Catholic high schools, and was actively involved in the work of revising the Canadian catechism.
Ambrozic was appointed Coadjutor Archbishop of Toronto on May 22, 1986, and succeeded Cardinal Carter as Archbishop on March 17, 1990.
In April 1991, Archbishop Ambrozic announced the creation of the Office of Catholic Youth, a ministry to reorganize existing youth groups and develop spiritual and social programs for young people between the ages of 10 and 25.
On January 18, 1998 Pope John Paul II elevated Archbishop Ambrozic to the Sacred College of Cardinals. The investiture took place in Rome on February 21, 1998.
Over the years, Cardinal Ambrozic served on several Vatican committees, including: the Pontifical Council for the Pastoral Care of Migrants and Itinerant People (1990); the Vatican Congregation for the Clergy (1991); and the Pontifical Council for Culture (1993). In addition, he was also appointed to the Congregation for Divine Worship and Discipline of Sacraments and to the Congregation for Oriental Churches (1999) and to the Council of Cardinals for the Study of the Organizational and Economic Problems of the Holy See (2004).
Cardinal Ambrozic retired as Archbishop of Toronto on December 16, 2006. He passed away on August 26, 2011 and was interred in the Bishops' Mausoleum at Holy Cross Cemetery, Toronto.