Auxiliary Bishop of Toronto 1979-1992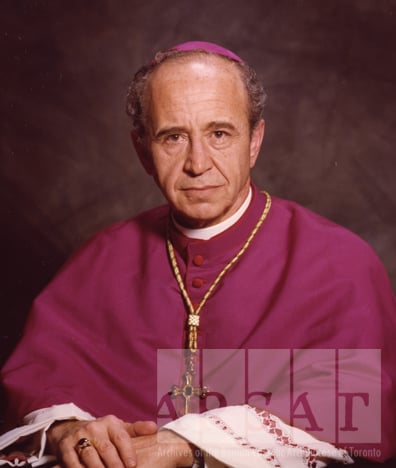 Archives of the Roman Catholic Archdiocese of Toronto, PH 17/03P
Photograph of Bishop Wall by unknown photographer [between 1979
and 2002]
27 Sep 1924 | Date of Birth
11 Jun 1949 | Ordained Priest
03 May 1979 | Appointed Auxiliary Bishop of Toronto
21 Jun 1979 | Consecrated Bishop
25 Feb 1992 | Appointed Archbishop of Winnipeg
07 Jun 2000 | Retired
05 Mar 2002 | Date of Death
Leonard Wall was born in Windsor on September 27, 1924. He attended St. Clare's Separate School in Windsor and De La Salle Collegiate, Toronto, before entering St. Augustine's Seminary in 1942. He received a Bachelor of Arts from the University of Toronto in 1945 and a Licentiate of Sacred Theology from Laval University in 1949. He was ordained in St. Michael's Cathedral by James Cardinal McGuigan on June 11, 1949.
From July to September of 1949 Father Wall assisted at St. Ann's Parish, Penetanguishene. In September he began attending the Angelicum in Rome, graduating in the spring of 1950 with a Doctorate in Sacred Theology. Upon his return to Toronto, Father Wall assisted at St. Monica's Parish, Toronto and St. Mary's Parish, Welland until August 1951, at which time he was appointed Secretary to Cardinal McGuigan. Father Wall served His Eminence until 1954 when he joined the staff of St. Augustine's Seminary as a Professor of Philosophy, Latin and French. From 1960 to 1962 he served as Archdiocesan Director of the Catholic Women's League. In January of 1964 Father Wall was named Vice-Rector of the new St. Augustine's College, and a member of the newly established Archdiocesan Building Commission. In June of 1968 he was appointed Chancellor and Financial Administrator of the Archdiocese. In 1969 Father Wall became a member of the Archdiocesan Council of Administration, a member of the Board of Diocesan Consultors, and of the Board of Governors of St. Augustine's Seminary. In August of 1978 he was named Vicar General.
On May 3, 1979, Father Wall was elected titular Bishop of Leptiminus and Auxiliary to Archbishop G. Emmett Carter. He was consecrated in St. Michael's Cathedral on June 21, 1979 by Archbishop Carter, who was assisted by Archbishop Emeritus Philip Pocock, and Auxiliary Bishop Aloysius Ambrozic of Toronto. After his consecration Bishop Wall continued as Chancellor and served as Administrative Assistant to Archbishop Carter. He also maintained his positions on the Council of Administration, the Board of Diocesan Consultors, and the Archdiocesan Building Commission. During his many years as Chancellor and Auxiliary Bishop, Bishop Wall was also a member of the Archdiocesan High School Commission, the Board of Governors of the Canadian Catholic Church Extension Society, the Advisory Board of St. Michael's Choir School, the Council of Catholic Charities, the Administrative Board of ShareLife, the Toronto Catholic Cemetery Association, and served as Chaplain to the Metropolitan Toronto Police Association.
On February 25, 1992, Bishop Wall was appointed Archbishop of Winnipeg. He was installed in Winnipeg on April 8, 1992. Archbishop Wall announced his retirement June 7, 2000 and returned to live in Toronto. He died March 5, 2002 in Toronto, and is buried in Winnipeg.