Auxiliary Bishop of Toronto 2012-2019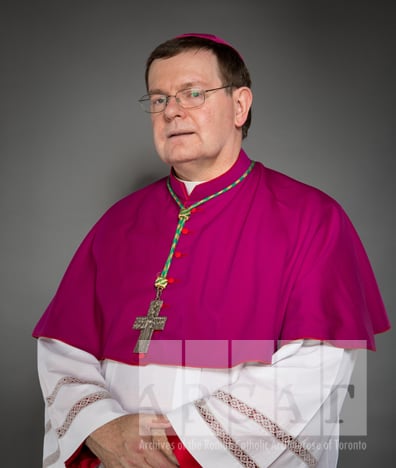 Archives of the Roman Catholic Archdiocese of Toronto, PH105-01D
Photograph of Bishop Kirkpatrick, 2012
05 June 1957 | Date of Birth
01 Sept 1984 | Ordained Priest
18 May 2012 | Appointed Auxiliary Bishop of Toronto
25 July 2012 | Consecrated Bishop
18 Dec 2019 | Appointed Bishop of Antigonish


Wayne Joseph Kirkpatrick was born on June 5, 1957 in St. Catharines, Ontario, the fourth of five children. He studied at the University of Waterloo, St. Jerome's College, earning a Bachelor of Arts (Philosophy) before entering St. Augustine's Seminary in 1980. He completed a Masters of Divinity and was ordained to the priesthood on September 1, 1984. He received a Licentiate (Masters) in Canon Law in June 1990 from St. Paul University, Ottawa.
Msgr. Kirkpatrick served the Diocese of St. Catharines in diverse roles since his ordination, including twenty-two years in diocesan administration, concurrently serving in parish ministry as a pastor for seventeen years. He served on the Diocesan Finance Council for seventeen years and was elected as chair of the Council of Priests for three terms. He was Diocesan Administrator for the Diocese of St. Catharines from April to November 2010. He was named a Prelate of Honour by Pope John Paul II in June 1999, a papal honour that bestows the title of 'Monsignor' on priests recognized for their service to the church.
In May 2012, Pope Benedict XVI appointed him as Auxiliary Bishop for the Archdiocese of Toronto. At the time of his appointment he was serving as Moderator of the Curia, Chancellor and Judicial Vicar of the Diocese of St. Catharines, Rector of the Cathedral and President of the Canadian Canon Law Society.
Bishop Kirkpatrick's episcopal ordination took place at the Cathedral of St. Catherine of Alexandria in St. Catharines, Ontario on July 25, 2012. While serving as Auxiliary Bishop of the Archdiocese of Toronto, he oversaw the pastoral needs of the Northern Pastoral Region.
Most Rev. Wayne Kirkpatrick was appointed Bishop of Antigonish on December 18th, 2019 by His Holiness Pope Francis, and installed as the 10th Bishop of the Diocese of Antigonish on February 3rd, 2020.
Previous | See our current Archbishop and Auxiliary Bishops under "Our Community > Bishops"