Auxiliary Bishop of Toronto 2010-2014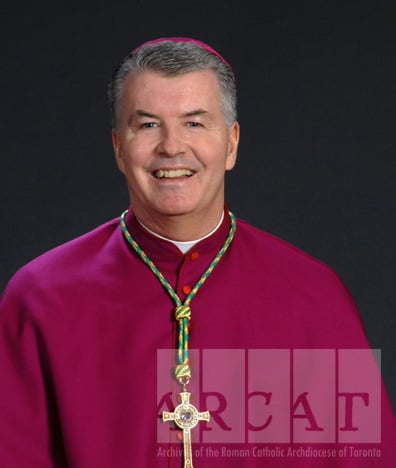 Archives of the Roman Catholic Archdiocese of Toronto, PH103/01D
Photograph of Bishop McGrattan, 2010
19 Sep 1956 | Date of Birth
02 May 1987 | Ordained Priest
06 Nov 2009 | Appointed Auxiliary Bishop of Toronto
12 Jan 2010 | Consecrated Bishop
08 Apr 2014 | Appointed Bishop of Peterborough
04 Jan 2017 | Appointed Bishop of Calgary
William McGrattan was born on September 19, 1956 and raised in London, Ontario. He received a Bachelor of Engineering Science in Chemical Engineering from the University of Western Ontario in 1979. He worked as a chemical engineer for Polysar Limited in Sarnia before entering St. Peter's Seminary, London, in 1982. In 1987, McGrattan was ordained a priest for the Diocese of London.
Following his first assignment as associate pastor of St. Joseph's Parish in Chatham, Father McGrattan went to Rome for studies and received a Licentiate in Fundamental Moral Theology from the Pontifical Gregorian University in 1992.
Father McGrattan served at St. Peter's Seminary, London, from 1992 to 2009 as lecturer, associate professor, vice-rector and dean of theology. He became rector of the seminary in 1997. In 2007, he was named Episcopal Director of Formation and Support for the Diocese of London.
In November 2009, Pope Benedict XVI appointed McGrattan Titular Bishop of Furnos Minor and Auxiliary Bishop for the Archdiocese of Toronto. Bishop McGrattan was consecrated by Bishop Ronald Fabbro, C.S.B, at St. Peter's Cathedral Basilica in London on January 12, 2010. He served as Bishop of the Western Region of the archdiocese as well as Vicar for Ethnic Pastoral Councils and Lay Movements. Bishop McGrattan was heavily involved in rolling out the archdiocesan Pastoral Plan in 2013.
Pope Francis appointed Bishop McGrattan to the Peterborough See on April 8, 2014, and to his current Diocese of Calgary in 2017.