​Bishop of Toronto 1879-1892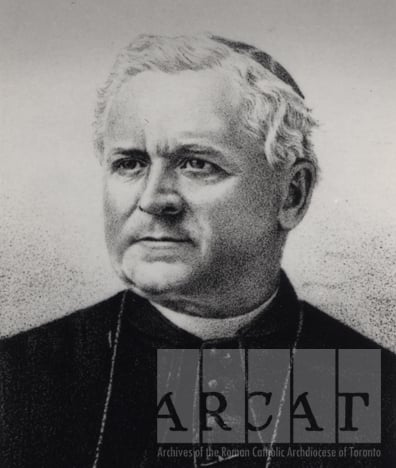 Archives of the Roman Catholic Archdiocese of Toronto, PH 75/05P
Unknown author. The original lithograph is published in Jubilee
Volume: Archbishop Walsh, Diocese of Toronto, 1892
01 Nov 1825 | Date of Birth
25 Mar 1849 | Ordained Priest
01 Oct 1869 | Appointed Bishop of Armidale
30 Nov 1869 | Consecrated Bishop
02 Aug 1877 | Resigned
14 Nov 1879 | Appointed Auxiliary Bishop of Toronto
08 Sep 1892 | Date of Death
Timothy O'Mahony was born in Cork County, Ireland on November 1, 1825. He began his clerical studies in Cork and completed them in Rome where he was ordained priest on March 24, 1849. Father O'Mahony served in various rural parishes in the Diocese of Cork before being appointed to St. Finbar's Church in Cork. He was appointed first Bishop of Armidale, Australia, and was consecrated November 30, 1869 in St. Finbar's by Bishop William Delany of Cork.
Bishop O'Mahony resigned his See in August of 1877 and returned to Europe. In 1879, he became aquainted with Archbishop of Toronto John Lynch during the latter's ad limina visit to Rome. On November 14, 1879, O'Mahony was appointed Titular Bishop of Eudocia and Auxiliary to Archbishop Lynch. Upon his arrival in Toronto, Bishop O'Mahony took charge of St. Paul's Parish. Realizing that the church was inadequate for the congregation, he started a weekly collection for a new building. This edifice, the current St. Paul's Basilica Church, was completed in 1889 and dedicated on December 22 of that same year. Bishop O'Mahony also performed various episcopal duties and was of great assistance to Archbishop Lynch. In 1887 he even acted as the Administrator of the Diocese of Hamilton during the prolonged absence of Bishop James Carberry.
After a long and painful illness, Bishop O'Mahony died on September 8, 1892. He was interred in a brick vault at the south-east corner of St. Paul's Church.