​Bishop of Toronto 1946-1954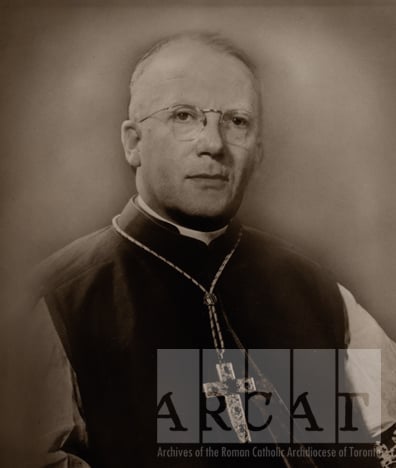 Archives of the Roman Catholic Archdiocese of Toronto, PH 10/06P
Photograph of Bishop Webster by Cyril Cassidy [between 1946 and 1954]
07 Mar 1898 | Date of Birth
26 May 1923 | Ordained Priest
24 Sep 1946 | Appointed Auxiliary Bishop of Toronto
21 Nov 1946 | Consecrated Bishop
21 Apr 1954 | Appointed Bishop of Peterborough
12 Mar 1968 | Resigned
18 Jan 1981 | Date of Death
Benjamin Webster was born in Hull, Yorkshire, England on March 7, 1898. He and his parents immigrated to Canada when he was approximately seven years old and settled in St. Catharines. He attended St. Catharines Collegiate Institute before studying at the University of St. Michael's College, Toronto, from 1915 to 1919. Webster entered St. Augustine's Seminary in 1919 and was ordained at St. Michael's Cathedral by Archbishop Neil McNeil on May 26, 1923.
Father Webster served as associate pastor at Our Lady of Lourdes Parish, Toronto, Guardian Angels Parish, Orillia, St. Michael's Cathedral and St. Helen's Parish, Toronto before becoming pastor of St. Joseph's Parish, Grimsby in July of 1936. He was later transferred to St. Mary's Parish, Welland in 1942.
Father Webster was appointed titular Bishop of Paphus and Auxiliary to James Cardinal McGuigan on September 24, 1946. He was consecrated at St. Michael's Cathedral on November 21, 1946 by Cardinal McGuigan assisted by Bishop John Kidd of London and Bishop Joseph Ryan of Hamilton. As well as assisting Cardinal McGuigan with various episcopal duties, Bishop Webster also served as Diocesan Consultor. From 1951 to 1954 he was also pastor of St. Joseph's Parish, Toronto.
On April 21, 1954, Bishop Webster was appointed Bishop of Peterborough, Ontario. He served in that capacity until his retirement on March 12, 1968 at which time he became titular Bishop of Tigamibena and Chaplain of St. Joseph's Hospital, Parry Sound. Bishop Webster died in Parry Sound on January 18, 1981, and was interred in St. Peter's Cemetery, Peterborough.