​Archbishop of Toronto 1978-1990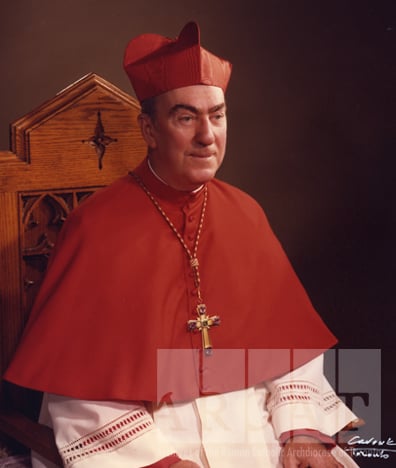 Archives of the Roman Catholic Archdiocese of Toronto, PH 18/65CP
Photograph by Cavouk Photographic Studio, Toronto [ca.1980]
01 Mar 1912 | Date of Birth
22 May 1937 | Ordained Priest
01 Dec 1961 | Appointed AuxiliaryBishop of London
02 Feb 1962 | Consecrated Bishop
17 Feb 1964 | Appointed Bishop of London
27 Apr 1978 | Appointed Archbishop of Toronto
05 Jun 1978 | Installed as 10th Ordinary of Toronto
30 Jun 1979 | Elevated to Cardinal
17 Mar 1990 | Resigned
06 Apr 2003 | Date of Death
G. Emmett Carter was born in Montreal on March 1, 1912. He received his theological education at the Grand Seminary of Montreal and was ordained on May 22, 1937. Father Carter's first twenty-five years in the priesthood were spent working in various educational fields. He founded the St. Joseph's Teachers' College in Montreal and was a member of the Montreal Separate School Board for 15 years. Father Carter was deeply involved in adult education at the university level through the Newman Club at McGill University in Montreal and as first president of the Thomas More Institute in Montreal. He was also a professor of catechetics for 25 years.
On December 5, 1961, Father Carter was appointed Auxiliary Bishop of London and was consecrated in Montreal, February 2, 1962 by Cardinal Paul-Emile Leger, Archbishop of Montreal. Bishop Carter succeeded as Bishop of London on February 22, 1964.
Bishop Carter was appointed Archbishop of the See of Toronto on April 27, 1978. One year later, on June 30, Pope John Paul II elevated Archbishop Carter to the Sacred College of Cardinals.
On June 21, 1979, Cardinal Carter consecrated three auxiliary bishops for Toronto: Bishops Robert Clune, Leonard Wall, and M. Pearse Lacey. His Eminence divided the archdiocese into regions comprised of several zones and an auxiliary bishop was designated to serve the priests and faithful of each region. Since then, the archdiocese has generally had three or four auxiliary bishops to assist the ordinary with his episcopal responsibilities.
Cardinal Carter contributed significantly to the Catholic community by seeking to improve race relations, founding Covenant House for street youth under 21, fighting against abortion, and protecting the rights of Catholics. On December 20, 1982, His Eminence was named a Companion of the Order of Canada, the top level of the Order reserved for Canadians demonstrating the highest degree of merit to their country and humanity.
1987 was a special year for Cardinal Carter as he celebrated a triple anniversary: his 75th birthday; 50th year of ordination; and 25th year as a bishop. In the same year, he also witnessed the fulfillment of the Ontario Government's promise to provide full funding to Catholic high schools. The following year, Cardinal Carter made an agreement with the Province to provide affordable housing for low-income families, senior citizens and the disabled, and the archdiocesan Housing Office was formed.
Auxiliary Bishop Aloysius Ambrozic was appointed Coadjutor Archbishop of Toronto in May of 1986. Cardinal Carter's resignation as Archbishop was accepted by the Pope and was announced March 17, 1990. He passed away on April 6, 2003 and was interred in the Bishops' Mausoleum at Holy Cross Cemetery, Toronto.