​Archbishop of Toronto 1971-1978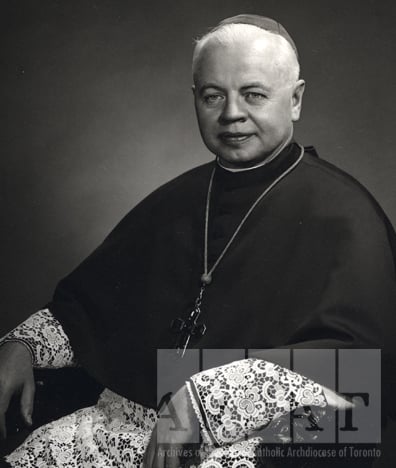 Archives of the Roman Catholic Archdiocese of Toronto, PH 14/02P
Photograph by Cavouk Photographic Studio, Toronto [ca. 1961]
02 Jul 1906 | Date of Birth
14 Jun 1930 | Ordained Priest
07 Apr 1944 | Appointed Bishop of Saskatoon
29 Jun 1944 | Consecrated Bishop
06 Aug 1951 | Appointed Coadjutor Archbishop of Winnipeg
14 Jan 1952 | Succeeded Archbishop of Winnipeg
18 Feb 1961 | Appointed Coadjutor Archbishop of Toronto
30 Mar 1971 | Succeeded as 9th Ordinary of Toronto
27 Apr 1978 | Resigned
06 Sep 1984| Date of Death
Philip Pocock was born in St. Thomas, Ontario on July 2, 1906. He studied Theology at St. Peter's Seminary, London and was ordained on June 14, 1930 by Bishop Denis P. O'Connor of Peterborough at St. Peter's Cathedral, London. Father Pocock worked in two parishes until 1933, when he went to Rome for graduate studies and obtained the degree of Doctor of Canon Law. On his return to London he was appointed to the staff of St. Peter's Seminary where he taught Moral Theology and Canon Law.
On April 7, 1944, Father Pocock was appointed Bishop of Saskatoon. He was consecrated in St. Peter's Cathedral, London, by Most Reverend Ildebrando Antoniutti, Apostolic Delegate of Canada. On June 16, 1951, Bishop Pocock was named Apostolic Administrator of Winnipeg, and on August 6 of the same year, Coadjutor Archbishop of Winnipeg. Archbishop Pocock succeeded to the See as Archbishop on January 14, 1952.
Due to Cardinal McGuigan's poor health, Archbishop Pocock was appointed Coadjutor Archbishop of Toronto on February 18, 1961. He succeeded to the See of Toronto upon Cardinal McGuigan's resignation on March 30, 1971.
Archbishop Pocock did his utmost to ease turmoil caused by the decisions of the Second Vatican Council. He created the Archdiocesan Pastoral Council and the Senate of Priests. The laity were encouraged to participate in church decisions, the liturgy, and charitable works. During these years, two Auxiliary Bishops, Thomas Fulton and Aloysius Ambrozic were consecrated, and forty-five new parishes were established. Archbishop Pocock also withdrew the Council of Catholic Charities from the United Way and established ShareLife as a Catholic alternative, in opposition to United Way's support of Planned Parenthood clinics. Archbishop Pocock was involved in improving Catholic education, lobbying for legislation against pornography, and encouraging interfaith relations.
On April 27, 1978, Archbishop Pocock resigned the See of Toronto and took up residence at St. Mary's Parish, Brampton. He remained active as a priest, celebrating mass at elementary schools, confirming students, and visiting a senior citizens' home, as well as performing his parish duties. He died on September 6, 1984 and was interred at Holy Cross Cemetery, Thornhill.