​Bishop of Toronto 1841-1847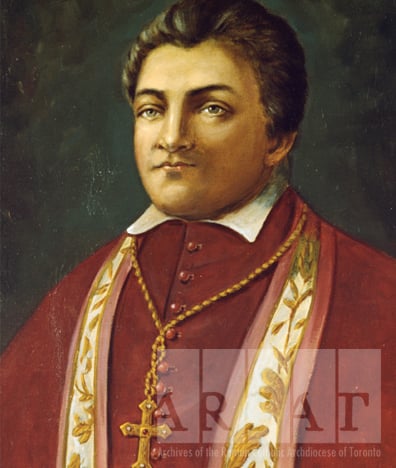 Archives of the Roman Catholic Archdiocese of Toronto, PH 02/01P
Photograph of an original painting by Thurston, 1935, which hangs
in St. Michael's Cathedral Basilica, Toronto
17 Oct 1804 | Date of Birth
19 Aug 1827 | Ordained Priest
17 Dec 1841 | Appointed Bishop of Toronto
08 May 1842 | Consecrated Bishop
26 Jun 1842 | Installed as 1st Ordinary of Toronto:
01 Oct 1847 | Date of Death

Michael Power was born on October 17, 1804 in Halifax, Nova Scotia. His classical and theological studies were made in Quebec and Montreal and he was ordained priest by Bishop Dubois of New York in Montreal on August 19, 1827. Father Power served as a missionary priest of the Archdiocese of Quebec and the Diocese of Montreal until 1839, when he was appointed Vicar General of Montreal. When Pope Gregory XVI canonically erected the Diocese of Toronto on December 17, 1841, Father Michael Power was appointed the first Bishop of the new See. He was consecrated by Bishop Remi Gaulin of Kingston in Laprairie, Quebec on May 8, 1842 and became the first English-speaking bishop to be born in Canada.
Shortly after his consecration, Bishop Power held the first Diocesan Synod, establishing the policies and regulations for his see. The new bishop also travelled through his vast diocese (the western half of present-day Ontario) visiting and administering Confirmation to his flock.
One of Bishop Power's most notable achievements was the foundation of St. Michael's Cathedral. At that time St. Paul's parish was serving all of the Catholic population in the city. Construction on the Cathedral began in April 1845; however, Bishop Power did not live to see it completed. While ministering to immigrants dying of typhus, he contracted the disease and died on October 1, 1847. Bishop Power's remains were buried in a crypt beneath his unfinished Cathedral, named after the diocese's patron saint, St. Michael the Archangel.