​Bishop of Toronto 1850-1860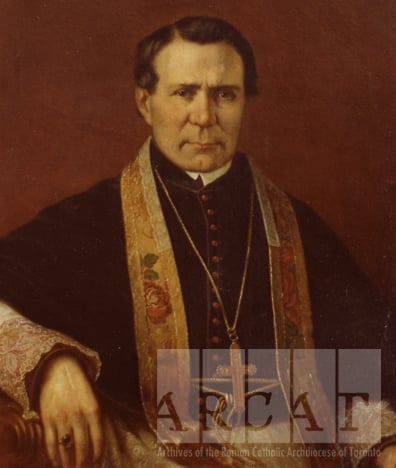 Archives of the Roman Catholic Archdiocese of Toronto, PH 03/14CP
Photograph of an original painting by Berthun. Original painting in de
Charbonnel Lounge, University of St. Michael's College, Toronto
01 Dec 1802 | Date of Birth
17 Dec 1825 | Ordained Priest
15 Mar 1850 | Appointed Bishop of Toronto
26 May 1850 | Consecrated 2nd Ordinary of Toronto
29 Apr 1860 | Resigned
29 Mar 1891 | Date of Death


Armand-François-Marie de Charbonnel, was born on December 1, 1802 in France. He studied philosophy and theology at Séminaire de Saint-Sulpice in Paris and was ordained a priest on December 17, 1825 by Archbishop de Quelen of Paris. He joined the Society of Saint-Sulpice, a community of diocesan priests. Father de Charbonnel was a professor at several institutions in France until his immigration to Canada in 1839. He served the Diocese of Montreal until 1848, when he returned to France for health reasons.
On March 15, 1850, Father de Charbonnel was appointed Bishop of Toronto. He was consecrated in the Sistine Chapel by Pope Pius IX on May 26, 1850.
In the ten years of Bishop de Charbonnel's episcopate, the number of priests and parishes doubled and the Catholic population grew to 43,000 faithful. He continued work on St. Michael's Cathedral and used his personal funds to clear the construction debt. Bishop de Charbonnel imported the Cathedral's sanctuary windows and the Stations of the Cross from France. He also introduced the Basilian Fathers, the Brothers of the Christian Schools and the Sisters of St. Joseph to Toronto. He was responsible for establishing the House of Providence.
Despite his contributions to the young diocese, de Charbonnel struggled with the linguistic and cultural distance from the faithful of his See. On April 29, 1860, Bishop de Charbonnel resigned the bishopric and returned to France. He entered the Order of Friars Minor Capuchin and made his novitiate in Rieti, Italy. In 1883, he retired to the Capuchin Monastery of Crest, France where he died on March 29, 1891 and was interred.