​Bishop of Toronto 1954-1977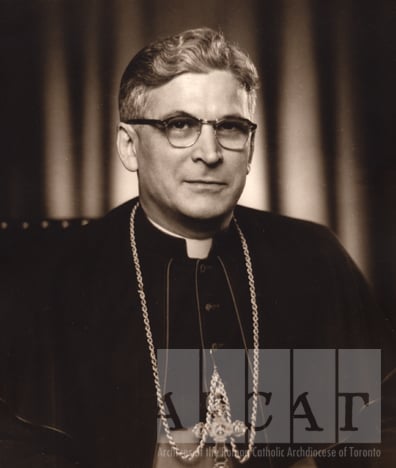 Archives of the Roman Catholic Archdiocese of Toronto, PH 11/04P
Photograph of Bishop Allen by Ashley & Crippen, Toronto, ON [1954-1977]
25 Jun 1909 | Date of Birth
10 Jun 1933 | Ordained Priest
02 Jul 1954 | Appointed Auxiliary Bishop of Toronto
07 Oct 1954 | Consecrated Bishop
07 Oct 1977 | Date of Death
Francis Allen was born in Toronto on June 25, 1909. He attended St. Francis and Holy Name Separate Schools, De La Salle Collegiate and the University of St. Michael's College, Toronto, before entering St. Augustine's Seminary in 1927. He was ordained at St. Michael's Cathedral on June 10, 1933 by Bishop Denis P. O'Connor of Peterborough.
Father Allen served as associate pastor at St. Dunstan's Parish and Blessed Sacrament Parish in Toronto before being appointed Secretary of St. Augustine's Seminary in 1935. In July 1936 he became Vice-Chancellor in Temporalibus; he became Chancellor in Spiritualibus in September 1942. He also served in 1941 as Acting President of the Catholic Church Extension Society. Father Allen accompanied Cardinal James C. McGuigan to the Vatican for His Eminence's reception of the Red Hat. While in Rome, Allen was named Domestic Prelate by Pope Pius XII on February 12, 1946. On September 21, 1952 he was appointed pastor of Our Lady of Sorrows Parish.
On July 2, 1954, Monsignor Allen was appointed titular Bishop of Avensa and Auxiliary to Cardinal McGuigan. He was consecrated on October 7, 1954 in St. Michael's Cathedral by Cardinal McGuigan. That same year he was appointed Vicar General. As well as assisting Cardinal McGuigan with various episcopal duties, Bishop Allen continued as pastor of Our Lady of Sorrows Parish. Over the years he also served on the Board of the Catholic Church Extension Society. In 1961, he was created Archdiocesan moderator of Religious Congregations by Coadjutor Archbishop Philip Pocock. In October of that year, he was appointed a member of the Archdiocesan Council of Administration and, in April, Chairman of the Archdiocesan High School Board. In March 1964, he was appointed moderator of the Holy Name Society of Canada.
Bishop Allen resigned his pastorate in June 1972 and limited his responsibilities to episcopal duties. He suffered a heart attack and died on October 7, 1977 at the age of 68. The funeral was held at St. Michael's Cathedral and he was interred in the family plot at Mount Hope Cemetery, Toronto.