​Bishop of Toronto 1955-1968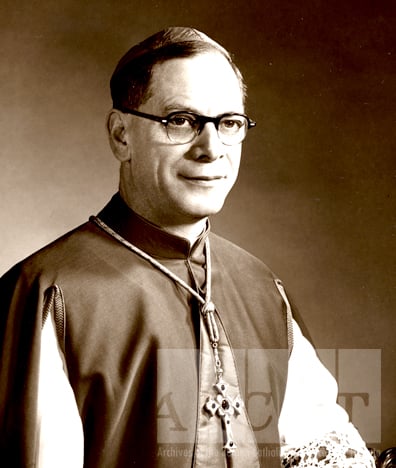 Archives of the Roman Catholic Archdiocese of Toronto, PH 75/13P
Photograph of Bishop Marrocco by Cavouk Portraits, Toronto
[between 1955 and 1968]
20 Jun 1913 | Date of Birth
12 Jun 1938 | Ordained Priest
07 Dec 1955 | Appointed Auxiliary Bishop of Toronto
22 Feb 1956 | Consecrated Bishop
10 Jun 1968 | Appointed Bishop of Peterborough
18 Jul 1975 | Date of Death
Francis Marrocco was born in Peterborough on June 20, 1913. He attended St. Peter's Separate School and St. Peter's High School before entering St. Augustine's Seminary in 1932. He was ordained priest by Archbishop James C. McGuigan in St. Peter's Cathedral, Peterborough on June 12, 1938.
Father Marrocco served in the parishes of Huntsville, Kinmount, Parry Sound and St. Peter's Cathedral, all in the Diocese of Peterborough, before attending the Catholic University of America in 1943 for graduate study in Social Action. In 1946 he attended St. Francis Xavier University in Antigonish, Nova Scotia, studying the cooperative movement. In 1948 the Canadian Conference of Catholic Bishops set up a Social Action Department with Father Marrocco becoming the first English-speaking secretary. He also directed the Catholic Immigrant Aid program of the Conference from 1948 to 1951. In 1954, Father Marrocco returned to Peterborough as the Rector of St. Peter's Cathedral.
On December 7, 1955, Father Marrocco was appointed titular Bishop of Limnae and Auxiliary to Cardinal McGuigan. He was consecrated in St. Peter's Cathedral on February 22, 1956 by Cardinal McGuigan who was assisted by Bishop John MacDonald of Antigonish and Bishop Benjamin Webster of Peterborough. In addition to his episcopal duties, Bishop Marrocco was also appointed pastor of St. Edward's Parish, Willowdale (1956), Dean of York (1957), Director of Catholic Charities (1960), Diocesan Consultor (1961), and Archdiocesan Director of Vocations (1961). At times he served as secretary of the Ontario Conference of Catholic Bishops and was national director of vocations. During his tenure in Toronto, Bishop Marrocco was also chairman of the board of directors of Canadian Register Limited, archdiocesan chaplain of the Christian Family Movement, and episcopal vicar for the Italian community in Toronto.
On June 10, 1968 Bishop Marrocco was elected Bishop of Peterborough. He was installed in St. Peter's Cathedral by Archbishop Emmanuel Clarizio, Apostolic Delegate to Canada on August 6 of that year. On July 18, 1975 Bishop Marrocco suffered a heart attack and died at the age of 62. His funeral was held July 22 at St. Peter's Cathedral and he was interred in the priests' plot of St. Peter's Cemetery, Peterborough.