Auxiliary Bishop of Toronto 2003-2005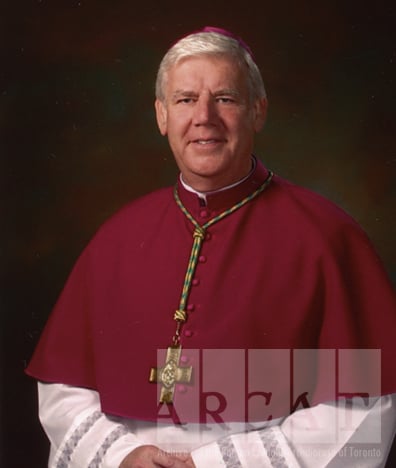 Archives of the Roman Catholic Archdiocese of Toronto, PH 99/01CP
Photograph of Bishop Bohan, 2003
08 Nov 1941 | Date of Birth
13 May 1967 | Ordained Priest
14 May 2003 | Appointed Auxiliary Bishop of Toronto
03 Jul 2003 | Consecrated Bishop
30 Mar 2005 | Appointed Archbishop of Regina
15 Jan 2016 | Date of Death
Daniel J. Bohan was born on November 8, 1941 in Yarmouth, NS, and grew up in Moncton, NB. He received his BA from St. Thomas University, Chatham, NB, his BTh (Bachelor of Theology) from Holy Heart Seminary, Halifax, NS, and his STB (Bachelor of Sacred Theology) from Université Laval, Québec, PQ. He was then ordained a priest for the Archdiocese of Moncton, NB, in 1967. He later received an MA in Theology from the University of Notre Dame, South Bend, IN.
Father Bohan began his priestly ministry as Curate at St. Augustine's Church, Moncton, NB. Ten years later he became Pastor of St. Clement's Parish, Port Elgin, and St. Bartholomew's, Melrose, and then Pastor of Immaculate Heart of Mary Parish in Riverview, NB. From 2000-2001 he was Priest Moderator of the Pastoral Unit of Immaculate Heart, St. Jude and Holy Ghost Parishes. From 2001 to 2003, he was Priest Moderator of the Pastoral Unit of St. Bernard's and Holy Family Parishes, Moncton.
Fr. Bohan taught Moral Theology at Holy Heart Seminary, Halifax, NS, in 1968 and 1969 and served on the Board of the Atlantic School of Theology. He has been a Roman Catholic Representative on the Gospel, Ecumenism and Theology Committee of the Maritime Conference of the United Church of Canada since 1999. In the year 2000 he was appointed Episcopal Vicar for the English-speaking population of the Archdiocese of Moncton.
On May 14, 2003, he was appointed titular bishop of Migirpa, and auxiliary bishop of Toronto and was ordained to the Episcopate July 3, 2003, at St. Augustine's Church in Moncton. Bishop Bohan was welcomed at a Mass at St. Michael's Cathedral on September 26, 2003.
While in the Archdiocese of Toronto, Bishop Bohan had pastoral responsibility of the Northern region of the Archdiocese. He was also the Vicar for Religious and was a Member of the Boards of Martyrs' Shrine and the Pastoral Mission Fund. On a national level, Bishop Bohan is a member of the Social Affairs Commission of the Canadian Conference of Catholic Bishops.
He was appointed Archbishop of Regina on March 30, 2005 and died there in 2016.