Auxiliary Bishop of Toronto 2006-2011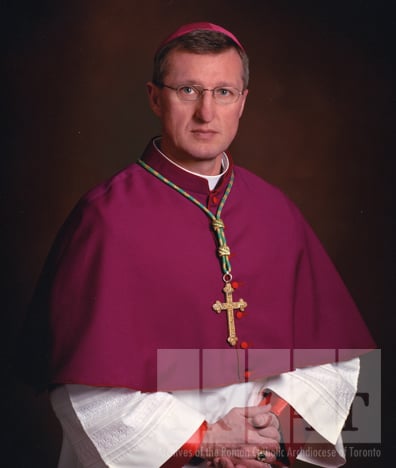 Photograph of Bishop Hundt [between 2006 and 2010]
26 Aug 1956 | Date of Birth
08 May 1982 | Ordained Priest
11 Feb 2006 | Appointed Auxiliary Bishop of Toronto
25 Apr 2006 | Consecrated Bishop
01 Mar 2011 | Appointed Bishop of Corner Brook and Labrador
Peter Hundt was born in Hanover, Ontario on August 26, 1956. He received a Bachelor of Arts in 1978 from St. Jerome's College, University of Waterloo and then studied at St. Peter's Seminary in London, Ontario. He was conferred with a Masters of Divinity from the University of Western Ontario in 1981. He was ordained to the priesthood for the Diocese of Hamilton on May 8, 1982.
Father Hundt served as parochial vicar at St. Eugene's Parish in Hamilton from 1982 to 1985. He was then assigned to Rome for further studies and in 1987 was awarded a Licenciate in Canon Law from the University of St. Thomas Aquinas, Rome. Upon his return from Rome, Father Hundt served as Vice-Chancellor (1987-90) and then Chancellor (1990-94) of the Diocese of Hamilton. In 1994, he was appointed pastor of Holy Cross Parish in Georgetown, Ontario.
On February 11, 2006, Father Hundt was appointed Titular Bishop of Tarasa in Byzacena and Auxiliary Bishop of Toronto. He was consecrated by Aloysius Cardinal Ambrozic at Christ the King Cathedral in Hamilton on April 25, 2006 and was welcomed into the Archdiocese of Toronto at a Mass on June 21, 2006 at St. Michael's Cathedral. Bishop Hundt was responsible for the Northern Region of the archdiocese.
Most Reverend Hundt received his current appointment as ordinary of the Diocese of Corner Brook and Labrador on March 1, 2011.