Auxiliary Bishop of Toronto 2002-2009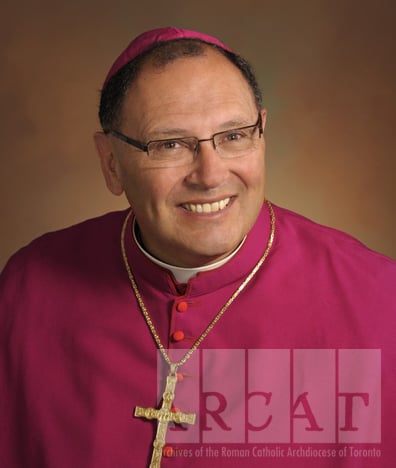 Photograph of Bishop Grecco, [ca. 2008]
04 Mar 1946 | Date of Birth
02 Sep 1972 | Ordained Priest
05 Dec 1997 | Appointed Auxiliary Bishop of London
02 Feb 1998 | Consecrated Bishop
27 Apr 2002 | Appointed Auxiliary Bishop of Toronto
11 Jul 2009 | Appointed Bishop of Charlottetown
04 Mar 2021 | Retired
Richard Grecco was born in St. Catharines, Ontario on March 4, 1946. He studied at St. Augustine's Seminary, Toronto, before being ordained priest on September 2, 1973. Father Grecco studied at the Gregorian University in Rome and in 1982 received a Doctorate of Theology from the University of St. Michael's College in Toronto.
After his ordination, Father Grecco served as associate pastor at St. Denis Parish, St. Catharines, before leaving to join the faculty of St. Augustine's Seminary in 1977. Since then, he has been involved in education and has held various teaching positions, including director of religious education for the diocese of St. Catharines. There he coordinated programs and established a diocesan quarterly newspaper, Vineyard.
Father Grecco was an assistant professor of moral theology at St. Joseph's College, University of Alberta, in 1992 and a sessional lecturer in Christian ethics at the University of St. Michael's College, Toronto.
He was serving as pastor of St. Alfred's Church in St. Catharines when, on December 5, 1997, Grecco was appointed titular bishop of Uccla, and Auxiliary Bishop of London. He was consecrated February 2, 1998.
Bishop Grecco was appointed Auxiliary Bishop of Toronto April on 27, 2002, and was welcomed at a Mass at St. Michael's Cathedral on June 13, 2002. He served on the board of directors of the Catholic Health Association of Ontario and on the education commission for the Ontario Conference of Catholic Bishops. He was also chair of the Canadian Conference of Catholic Bishops' Episcopal Commission for the English Sector on Christian Education, and was an episcopal advisor to the Third Continental Congress on Vocations.
With his appointment, Bishop Grecco was assigned Vicar for Religious Communities of men and women for the archdiocese and responsibility for the Eastern and Northern regions of the Archdiocese. Upon the appointment of Bishop De Angelis to Peterborough in 2002, Bishop Grecco became responsible for the Central region of the Archdiocese and Episcopal Vicar for Ethnic Communities. He also worked closely with the many lay associations across the Archdiocese.
On July 11, 2009, Bishop Grecco was appointed Bishop of Charlottetown, Prince Edward Island. He was installed at St. Dunstan's Basilica in Charlottetown on September 21, 2009.