Auxiliary Bishop of Toronto 1979-1997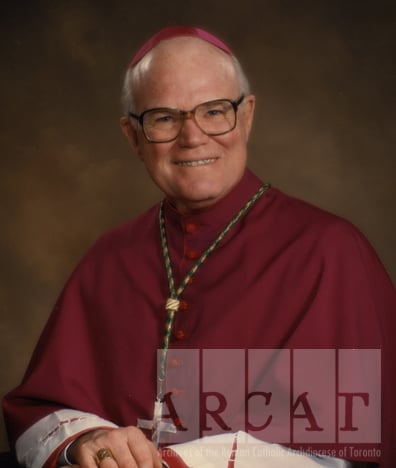 Archives of the Roman Catholic Archdiocese of Toronto, PH 15/03CP
Photograph of Bishop Clune by Gallery 282 Ltd. Oshawa, 1985
18 Sep 1920 | Date of Birth
26 May 1945 | Ordained Priest
03 May 1979 | Appointed Auxiliary Bishop of Toronto
21 Jun 1979 | Consecrated Bishop
30 Jun 1997 | Retired
06 Sep 2007 | Date of Death
Robert Clune was born in Toronto on September 18, 1920. He attended St. Vincent de Paul Separate School and St. Michael's College before entering St. Augustine's Seminary in 1938. He earned a Bachelor of Arts from the University of Toronto in 1941. Robert Clune was ordained to the priesthood on May 26, 1945 by Archbishop James McGuigan in St. Michael's Cathedral.
Father Clune served as assistant priest at Our Lady of Lourdes Parish, Toronto during the summer of 1945. That September, Father Clune entered the Catholic University of America, Washington D.C., graduating in 1948 with a Doctorate in Canon Law. During the summers of 1946 and 1947 Father Clune served in the mission of Thunder Bay.
Upon Father Clune's return to Toronto in 1948 he was appointed assistant pastor at St. Ann's Parish, Toronto, where he served until 1953. During this time he also served as assistant to Monsignor Francis Allen, Chancellor and, in 1951, was appointed Vice-Chancellor. In 1953, he was appointed Defender of the Bond of the Toronto Regional Marriage Tribunal and Director of Catholic Cemeteries.
In January 1959 Father Clune was appointed Archdiocesan Director of the St. Vincent de Paul Society. He was elected Treasurer of the Priests' Mutual Aid Society and Promoter of Justice and Vice-Officialis of the Tribunal in 1962. Father Clune was the founding pastor of St. Wilfrid's Parish, Downsview in June of 1965 and he continued as pastor until 1971 when he was appointed Director of the Catholic Church Extension Society of Canada.
On May 3, 1979 Father Clune was elected titular Bishop of Lacubaza and Auxiliary to Cardinal G. Emmett Carter of Toronto. He was consecrated on June 21, 1979 in St. Michael's Cathedral by Cardinal Carter, assisted by Archbishop Emeritus of Toronto Philip Pocock and Auxiliary Bishop Aloysius Ambrozic of Toronto.
Bishop Clune became head of the eastern region of the Archdiocese and Pastor of St. John the Evangelist Parish, Whitby. In 1982 he was appointed Chairman of the Archdiocesan Pastoral Mission Fund. In the spring of 1992 Bishop Clune moved to Barrie and became Vicar of the northeastern region of the Archdiocese, Vicar for Religious Orders and for the Permanent Deacons. Upon the appointment of his successor, Bishop Anthony Meagher, Bishop Clune retired from active service on June 30, 1997.
Throughout his years of service, Bishop Clune viewed Catholic education as a particular priority. He blessed over fifty new schools and was an Honorary Chairman of the Durham Catholic District School Board. He was also an Honorary Trustee of the York Catholic District School Board and served as Chaplain to the Simcoe Muskoka Catholic District School Board.
Bishop Clune died September 6, 2007, two weeks before his 87th birthday.