Auxiliary Bishop of Toronto 1979-1993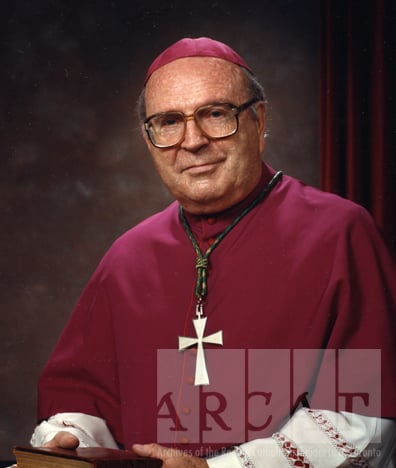 Archives of the Roman Catholic Archdiocese of Toronto, PH 16/01CP
Photograph of Bishop Lacey by Newsome Photography, Toronto
[between 1979 and 1992]
26 Nov 1916 | Date of Birth
23 May 1943 | Ordained Priest
03 May 1979 | Appointed Auxiliary Bishop of Toronto
21 Jun 1979 | Consecrated Bishop
31 May 1993 | Retired
02 Apr 2014 | Date of Death
M. Pearse Lacey was born in Toronto on November 26, 1916. He attended St. Helen's Separate School and St. Michael's College before entering St. Augustine's Seminary in 1936. He was ordained on May 23, 1943 in St. Michael's Cathedral by Archbishop James McGuigan.
From 1943 to 1957 Father Lacey assisted at St. Patrick's Parish, Port Colborne, St. Cecilia's Parish, Toronto, St. Monica's Parish, Toronto and St. Pius X Parish, Toronto. On September 28, 1957 he was appointed Chaplain of St. Michael's Hospital. On June 10, 1959 he was appointed first Pastor of Transfiguration of Our Lord Parish, Etobicoke. He continued in that capacity until October 18, 1966 when he was named Rector of St. Michael's Cathedral where he served until 1979. On September 13, 1967 Father Lacey was appointed a Prelate of Honour.
Over the years, Monsignor Lacey served as Chaplain and Director of the Christian Family Movement, and Vice-Chairman of the Senate of Priests. He was on the Archdiocesan Building Committee (1964), Chairman of the Archdiocesan Liturgical Commission (1965-70), Trustee of the Metropolitan Separate School Board (1965-70) and Vice-President of the National Federation of the Senate of Priests (1975 -76). Monsignor Lacey was one of the organizers of St. Stephen's Downtown Chapel, which opened in 1977 to serve the business community.
On May 3, 1979 Monsignor Lacey was elected titular Bishop of Diano and Auxiliary to Archbishop G. Emmett Carter of Toronto. He was consecrated on June 21, 1979 in St. Michael's Cathedral by Archbishop Carter who was assisted by Archbishop Emeritus of Toronto Philip Pocock and Auxiliary Bishop Aloysius Ambrozic of Toronto.
Bishop Lacey was appointed Vicar for the western region of the Archdiocese as well as Vicar for Priests' Personnel. He retired on May 31, 1993. In his later years, Bishop Lacey continued a tradition of service, presiding at sacramental celebrations up until late 2013 when his health would no longer permit such involvement.
Most Reverend Lacey, Bishop Emeritus of Toronto, passed away on April 2, 2014 at the age of 97 and was interred at Mount Hope Cemetery in Toronto.