Auxiliary Bishop of Toronto 1992-2001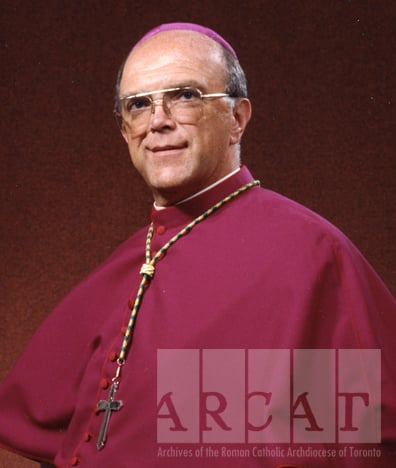 Archives of the Roman Catholic Archdiocese of Toronto, PH 23/07CP
Photograph of Bishop Knight by Walter Uglik, Art Photo Studio,
Toronto, 1992
10 Apr 1942 | Date of Birth
02 Jun 1967 | Ordained Priest
27 Apr 1992| Appointed Auxiliary Bishop of Toronto
24 Jun 1992 | Consecrated Bishop
09 Apr 2000 | Retired
John Knight was born on April 10, 1942 in Binghamton, New York, and raised in Niagara Falls, Ontario. He attended St. Patrick's Separate School, Niagara Falls, Mount Carmel Secondary School, Niagara Falls and Notre Dame College School, Welland before entering St. Augustine's Seminary. He was ordained for the Diocese of St. Catharines on June 2, 1967 by Bishop Thomas McCarthy of St. Catharines.
From 1967 to 1979 Father Knight assisted at St. Julia's Parish, St. Catharines, St. Alfred's Parish, St. Catharines, St. Mary's Parish, Welland, and St. Denis' Parish, St. Catharines. In 1979 he was appointed Pastor of St. Alexander's Parish, Fonthill where he served until 1984. Along with his duties as a parish priest, Father Knight also held many other positions. In the 1970s he was a member of the Diocesan Liturgical Commission, Chaplain of the Niagara Regional Police Force (1978-84), part-time Director of Religious Education (1979-81), a member of the Council of Priests (1979-84), Dean of Welland (1982-84) and a Diocesan Consultor (1983-84). He was the Ontario representative on the National Council of Liturgy (971-76) and also served on the Board of Governors of Notre Dame College School, Welland (1980-84) having taught religion there in a part-time capacity (1975-77).
On July 1, 1984, Father Knight was appointed President of the Catholic Church Extension Society of Canada. In May of 1987 he was named a Papal Chaplain to John Paul II. Monsignor Knight resigned as President of Extension in October of 1987 and was appointed a member of the Secretariat of the Pontifical Council Cor Unum in November of the same year. He moved to Rome and was responsible particularly for the English-language business of the Council. Monsignor Knight served on the Council until 1990 when he returned to St. Catharines and was appointed pastor of Holy Rosary Parish, Thorold.
On April 27, 1992 Monsignor Knight was elected titular Bishop of Taraqua and Auxiliary to Archbishop Aloysius Ambrozic of Toronto. He was consecrated in St. Michael's Cathedral on June 24, 1992 by Archbishop Ambrozic who was assisted by Archbishop Leonard Wall of Winnipeg and Bishop Thomas Fulton of St. Catharines. Upon his consecration, Bishop Knight became Vicar of the eastern region of the diocese and assumed responsibility for educational matters.
Bishop Knight retired as Auxiliary Bishop in 2000.