Auxiliary Bishop of Toronto 1997-2002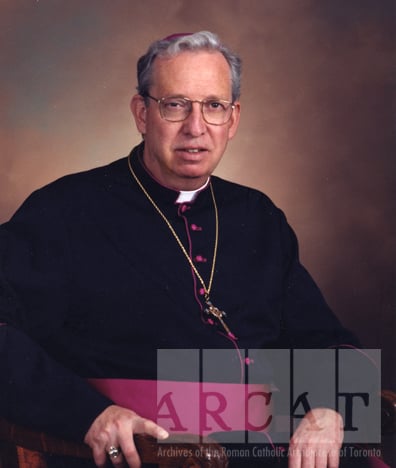 Archives of the Roman Catholic Archdiocese of Toronto, PH 89/01 CP
Photograph of Bishop Meagher by Ashley and Crippen Toronto, 1999
17 Nov 1940 | Date of Birth
17 Jun 1972 | Ordained Priest
29 Apr 1997 | Appointed Auxiliary Bishop of Toronto
26 Jun 1997 | Consecrated Bishop
27 Apr 2002 | Appointed Archbishop of Kingston
14 Jan 2007 | Date of Death
Anthony Meagher was born on November 17, 1940 in Oshawa, Ontario. He attended St. Gregory's Separate School and O'Neill Collegiate and Vocational Institute in Oshawa. He earned his B.A. from the University of Toronto and entered St. Augustine's Seminary shortly afterwards. He left the Seminary in 1966 before being ordained and taught for two years at Port Colborne District High School. He then returned to Oshawa and taught English and coached basketball at Paul Dwyer High School. In 1971 he reentered St. Augustine's Seminary and was ordained at St. Mary of the People Parish, Oshawa on June 17, 1972.
Father Meagher served as associate pastor at St. Michael's Cathedral (1972-76) and at St. John the Evangelist Parish, Whitby (1976-81). He was appointed pastor of Blessed Trinity Parish, Willowdale in 1981 and then at St. Anthony of Padua Parish, Bramalea in 1992.
In 1981 Father Meagher became Secretary to the archdiocesan Senate of Priests; he served on the Priests' Personnel Board from 1992.
On April 29, 1997 Father Meagher was appointed titular Bishop of Dura and Auxiliary to the Archbishop of Toronto. He was consecrated in St. Michael's Cathedral on June 26, 1997 by Archbishop Aloysius Ambrozic who was assisted by Archbishop Jorge Liberato Urosa Savino of Valencia, Venezuela, and Auxiliary Bishop Emeritus M. Pearse Lacey of Toronto. Upon his consecration, Bishop Meagher became Vicar of the Northern region of the Archdiocese.
Bishop Meagher was appointed Archbishop of Kingston on April 27, 2002. He was installed in Kingston on August 13, 2002.
Archbishop Meagher passed away on January 14, 2007 at the age of 66. He is buried in his family plot at St. John the Evangelist Cemetery in Whitby.