Auxiliary Bishop of Toronto 1995-1998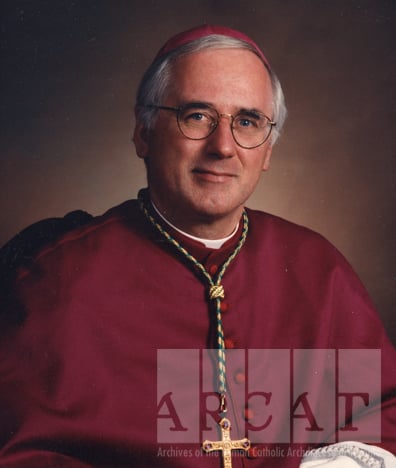 Archives of the Roman Catholic Archdiocese of Toronto, PH 83/03CP
Photograph of Bishop Prendergast by Ashley and Crippen Toronto, 1995
19 Feb 1944 | Date of Birth
10 Jun 1972 | Ordained Priest of the Society of Jesus
22 Feb 1995 | Appointed Auxiliary Bishop of Toronto
25 Apr 1995 | Consecrated Bishop
30 Jun 1998 | Appointed Archbishop of Halifax
22 Jan 2002 | Appointed Apostolic Administrator of Yarmouth
14 May 2007 | Appointed Archbishop of Ottawa
13 Jan 2016 | Appointed Apostolic Administrator of Alexandria-Cornwall
Terrence Prendergast was born in Montreal on February 19, 1944. After attending local Catholic schools, he entered the Jesuit Order on August 14, 1961. He received his Jesuit training at Ignatius College, Guelph, Loyola Seminary of Fordham University, New York (from which he received a B.A. in 1967), and Regis College in the Toronto School of Theology, where he earned a Master of Divinity and Doctorate of Theology. Father Prendergast was ordained priest on June 10, 1972 in the Chapel of Regis College, Willowdale. He pronounced his final vows as a Jesuit at Canadian Martyrs Parish, Halifax, in 1978.
Within the Upper Canada Province of Jesuits, Father Prendergast served as a Consultor to the Provincial from 1978 to 1984. In his teaching career Father Prendergast taught at Loyola High School, Montreal (1967-69), at the Atlantic School of Theology, Halifax (1975-81), and at Regis College, Toronto (1981-94). During sabbatical leaves from Regis College, he was a Visiting Professor at Campion College, University of Regina (1988-89). At the time of his appointment as auxiliary bishop, Prendergast was the Catholic Biblical Association of America Visiting Professor at the École Biblique et Archéologique Française in Jerusalem. He also served a three year term as Dean of Regis College, Toronto.
Father Prendergast served as Director of Priestly Formation at the Atlantic School of Theology, Halifax (1975-1981), Rector of Regis College (1981-1987), and National Consultors for the Jesuit Humanities Program at Creighton University, Omaha (1990-95). In 1990, he served as a resource person within the Canadian delegation to the Eighth Ordinary Synod of Bishops on Priestly Formation in Rome, and afterwards was a member of the Canadian Conference of Catholic Bishops sub-commission of the Ad Hoc Committee on Sexual Abuse. Father Prendergast also held the office of Executive Secretary to Bishop Frederick Henry for the Vatican-mandated Apostolic Visitation to English-speaking Canadian seminaries.
Reverend Prendergast was involved in ecumenical and interfaith activities. In 1982 he became a member of the Christian-Jewish Dialogue of Toronto; in 1990, a member of the National Anglican-Roman Catholic Dialogue. Despite his various appointments and committments, Prendergast maintained an active interest in pastoral work, preaching on a regular basis at Corpus Christi Parish, Toronto, and St. Ignatius Loyola Parish, Mississauga. He has also conducted retreats for the clergy of Toronto and St. Catharines dioceses.
Appointed Auxiliary Bishop of Toronto on February 22, 1995, Prendergast was consecrated in St. Michael's Cathedral on April 25, 1995 by Archbishop Aloysius Ambrozic.
On June 30, 1998, he was appointed to the Archdiocese of Halifax. Archbishop Prendergast received his current appointment as ordinary of Ottawa on May 14, 2007.