Auxiliary Bishop of Toronto 1992-2003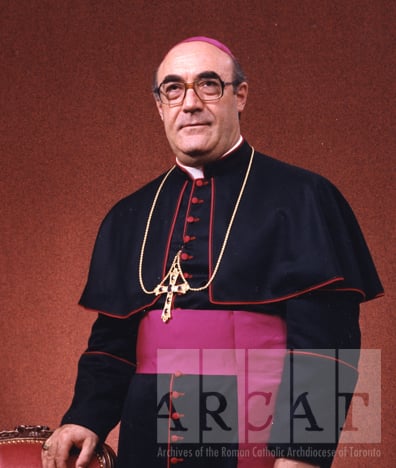 Archives of the Roman Catholic Archdiocese of Toronto, PH 22/01CP
Photograph of Bishop De Angelis by Walter Uglik, Art Photo Studio,
Toronto, 1992
23 Jan 1939 | Date of Birth
06 Dec 1970 | Ordained Priest of the Congregation of the Sons of the Immaculate Conception
27 Apr 1992 | Appointed Auxiliary Bishop of Toronto
24 Jun 1992 | Consecrated Bishop
28 Dec 2002 | Appointed Bishop of Peterborough
08 Apr 2014 | Retired
Nicola De Angelis was born on January 23, 1939 in Sabina, Italy. He entered the Sons of the Immaculate Conception religious order in 1959 and completed his philosophical studies in Rome with the Salesian Fathers. In 1967 he immigrated to Canada and entered St. Augustine's Seminary for his theological studies. He was ordained into the Sons of the Immaculate Conception order on December 6, 1970 by Archbishop Philip Pocock in St. Sebastian's Parish, Toronto.
After his ordination Father De Angelis lived in residence at St. Sebastian's Parish before being appointed pastor in 1972. He obtained his Canadian citizenship in 1975. Father De Angelis served two terms as a trustee of the Metropolitan Separate School Board from 1976 to 1980. In October of 1977 he was appointed to the Minister's Advisory Committee by the Honourable Thomas Wells, Ontario Minister of Education. In 1980 Father De Angelis was appointed Vice-Chancellor of Temporal Affairs for the Archdiocese of Toronto. That year he also earned a Doctorate of Ministry from the Toronto School of Theology.
Father De Angelis served on the Archdiocesan Senate of Priests in 1984 as well as the Archdiocesan Italian Pastoral Commission. During his time in Toronto Father De Angelis was President of the Italian Culture and Education Centre of the Italo-Canadian National Congress and President of the Ente Cultura Italiana. In 1984 he was appointed Treasurer-General for the Sons of the Immaculate Conception and moved to Rome. Father De Angelis was elected Superior General of his Order for a six year term in 1986.
On April 27, 1992 Father De Angelis was elected titular Bishop of Remesiana and Auxiliary to Archbishop Aloysius Ambrozic. He was consecrated in St. Michael's Cathedral on June 24, 1992 by Archbishop Ambrozic, who was assisted by Archbishop Leonard Wall of Winnipeg and Bishop Thomas Fulton of St. Catharines. Upon his consecration Bishop De Angelis became Vicar of the central region of the Archdiocese, which includes Toronto, East York and North York. He was also responsible for the care of the ethnic communities in the Archdiocese formerly under the jurisdiction of Archbishop Ambrozic.
On December 28, 2002 Bishop De Angelis was appointed Bishop of Peterborough. He was installed in Peterborough on February 26, 2003. He retired from his See on April 8, 2014.