​Bishop of Toronto 1860-1870 | Archbishop of Toronto 1870-1888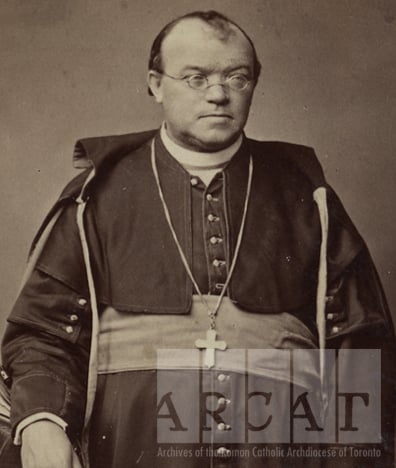 Archives of the Roman Catholic Archdiocese of Toronto, PH 04/01P
Photograph of Archbishop Lynch by Herbert E. Simpson, Toronto [between 1860 and 1888]
16 Feb 1816 | Date of Birth
10 Jun 1843 | Ordained Priest of the Congregation of the Mission
26 Aug 1859 | Appointed Coadjutor Bishop of Toronto
20 Nov 1859 | Consecrated Bishop
29 Apr 1860 | Succeeded as 3rd Ordinary of Toronto
07 Jun 1860 | Installed as Bishop of Toronto
18 Mar 1870 | Elevated 1st Archbishop of Toronto
12 May 1888 | Date of Death


John Joseph Lynch was born on February 6, 1816 in Ireland. His philosophy and theology studies were made in the Seminary of St. Lazare, Paris, where he was a novitiate for the Lazarist Order, also called the Congregation of the Priests of the Missions. He was ordained on June 10, 1843 in Maynooth, Ireland by Bishop Murray of Dublin. Father Lynch served as a missionary priest in Ireland until 1847, when he immigrated to Texas. He founded the Seminary of Our Lady of the Angels in Niagara Falls, New York and was Superior there until 1859.
On August 26, 1859, Father Lynch was appointed Coadjutor Bishop of Toronto with right of succession. He was consecrated in Toronto on November 20, 1859 by Bishop de Charbonnel. Upon de Charbonnel's resignation on April 29, 1860, Coadjutor Bishop Lynch became Toronto's third bishop.
The new bishop visited every part of his diocese giving retreats, Forty Hours' Devotion and Confirmation. He also concentrated his efforts on obtaining basic rights and a fair Separate School system for Catholics. During Archbishop Lynch's episcopate, the Redemptorist Fathers, Carmelite Sisters, Sisters of the Precious Blood and Sisters of the Good Shepherd settled in Toronto.
On March 18, 1870, during the First Vatican Council, the diocese was raised to an archbishopric by Pope Pius IX, thereby elevating Bishop Lynch to the status of Archbishop.
Bishop Timothy O'Mahony was named Auxiliary Bishop in 1879 and assisted Archbishop Lynch in the administration of the diocese. The archbishop became ill in 1882 and died on May 12, 1888. His remains were interred in the garden of St. Michael's Cathedral.