​Archbishop of Toronto 1889-1898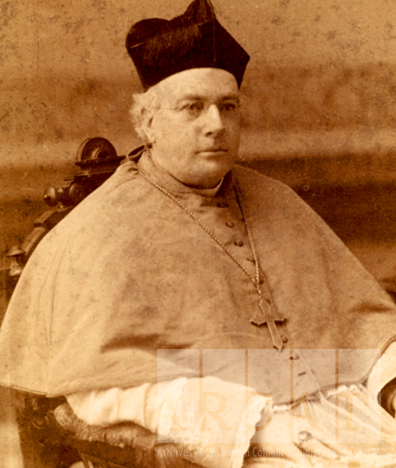 Archives of the Roman Catholic Archdiocese of Toronto, PH 05/01P
Photograph of Archbishop Walsh by Frank Cooper, Artistic
Photographer London [between 1867 and 1889]
23 May 1830 | Date of Birth
01 Nov 1854 | Ordained Priest
04 Jun 1867 | Appointed Bishop of Sandwich
10 Nov 1867 | Consecrated Bishop of Sandwich
03 Oct 1869 | Appointed Bishop of London
13 Aug 1889 | Appointed Archbishop of Toronto
27 Nov 1889 | Installed as 4th Ordinary of Toronto
30 Jul 1898 | Date of Death
John Walsh was born in Ireland on May 23, 1830. His classical, philosophical and part of his theological studies were taken in Ireland. He immigrated to Canada in April of 1852 and completed his studies at the Sulpician Seminary in Montreal. On November 1, 1854, John Walsh was ordained priest by Bishop de Charbonnel in St. Michael's Cathedral. Father Walsh served as pastor at Brock, St. Mary's, St. Paul's, and St. Michael's Cathedral before becoming Vicar General of the Archdiocese in April 1862.
On June 4, 1867, Father Walsh was appointed Bishop of Sandwich (Windsor), Ontario, and consecrated in St. Michael's Cathedral by Archbishop Charles François Baillargeon of Quebec on November 10, 1867. The seat of the See was changed to London, Ontario in 1869 and Bishop Walsh occupied it until appointed Archbishop of Toronto on August 13, 1889.
During his nine year episcopate, Archbishop Walsh established the Sacred Heart Orphanage (Sunnyside) and St. John's Industrial School for Boys, and purchased land for Mount Hope Cemetery. Despite poor health, Archbishop Walsh carried out parish visitations and Confirmation tours, established new parishes and renovated many others, including the Cathedral. Archbishop Walsh died on July 30, 1898 and was buried in St. Michael's Cathedral.