​Archbishop of Toronto 1908-1911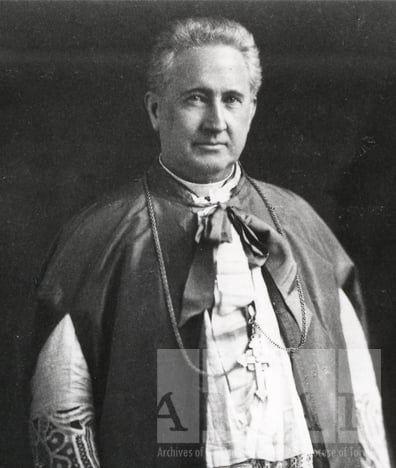 Archives of the Roman Catholic Archdiocese of Toronto, PH 07/04P
Photograph of Archbishop McEvay by an unknown photographer
[between 1908 and 1911]
08 Dec 1852 | Date of Birth
29 Jul 1882 | Ordained Priest
27 May 1899 | Appointed Bishop of London
06 Aug 1899 | Consecrated Bishop
13 Apr 1908 | Appointed Archbishop of Toronto
17 Jun 1908 | Installed as 5th Ordinary of Toronto
10 May 1911 | Date of Death
F. Patrick McEvay was born in Lindsay, Ontario on December 8, 1852. He received his classical education at the University of St. Michael's College, Toronto, and studied theology at the Grand Seminary, Montreal. On July 9, 1882, he was ordained priest by Bishop James Cleary of Kingston in Trenton, Ontario. Until 1899, Father McEvay served as a priest in the dioceses of Kingston, Peterborough and Hamilton. In 1892, he was appointed a Privy Chamberlain by Pope Leo XIII.
Monsignor McEvay was appointed Bishop of London, Ontario on May 27, 1899 and consecrated in London by Archbishop O'Connor of Toronto on August 6, 1899.
On April 13, 1908, McEvay was appointed Archbishop of Toronto. While archbishop, he accomplished much for his diocese and the Church in Canada. Seven new parishes were established and ten new church buildings constructed. Archbishop McEvay also founded the Canadian Catholic Church Extension Society (now Catholic Missions in Canada).
Arguably one of His Grace's most notable achievements was the establishment of St. Augustine's Seminary. The cornerstone was laid and blessed by Archbishop McEvay on October 23, 1910. Unfortunately, he did not live to see it completed. Suffering from a blood disease since his arrival in Toronto, Archbishop McEvay finally succumbed to this illness on May 10, 1911. His body was interred in Regina Cleri Cemetery at St. Augustine's Seminary.