​Archbishop of Toronto 1899-1908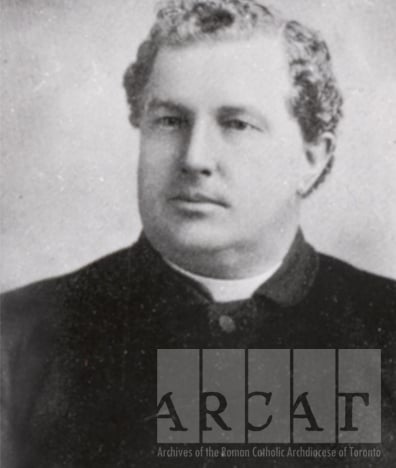 Archives of the Roman Catholic Archdiocese of Toronto, PH 06/01P
Photograph of Archbishop O'Connor by an unknown photographer, 1883
26 Feb 1841 | Date of Birth
08 Dec 1863 | Ordained Priest of the Congregation of St. Basil
18 Jul 1890 | Appointed Bishop of London
19 Oct 1890 | Consecrated Bishop
07 Jan 1899 | Appointed Archbishop of Toronto
03 May 1899 | Installed as 5th Ordinary of Toronto
04 May 1908 | Resigned
30 Jun 1911 | Date of Death
Denis T. O'Connor was born on February 26, 1841 in Pickering, Ontario. He made his classical and philosophical studies at St. Michael's College, Toronto, and entered the Congregation of St. Basil in 1859. He took theology with the Basilians in Toronto and spent his novitiate year in France. On December 8, 1863 he was ordained priest by Bishop Lynch in St. Michael's Cathedral. Father O'Connor, C.S.B., served as a professor at St. Michael's College and Superior of Assumption College, Windsor, until 1890.
On July 18, 1890, Father O'Connor was appointed Bishop of London, Ontario. He was consecrated October 19, 1890 by Archbishop Walsh in St. Peter's Cathedral, London. Bishop O'Connor was the first Basilian priest to reach the episcopacy.
On January 7, 1899, O'Connor was appointed Archbishop of Toronto, becoming the archdiocese's first bishop born in Ontario. Archbishop O'Connor soon became a leading figure in the question of certification for Separate School teachers and he guaranteed an equal education for Catholic children. The archbishop strongly believed in a well-trained clergy and in the Catholic education of the laity. Newly ordained clergy were required to submit to examinations at regular intervals and older clergy attended frequent retreats and seminars. Archbishop O'Connor also implemented a thorough course of religious instruction for all Catholic schools.
Due to ill health, Archbishop O'Connor resigned his See on May 4, 1908. After a long battle with Bright's Disease and diabetes, he died on June 30, 1911 and was buried in the Basilian plot at Mount Hope Cemetery.