​Archbishop of Toronto 1912-1934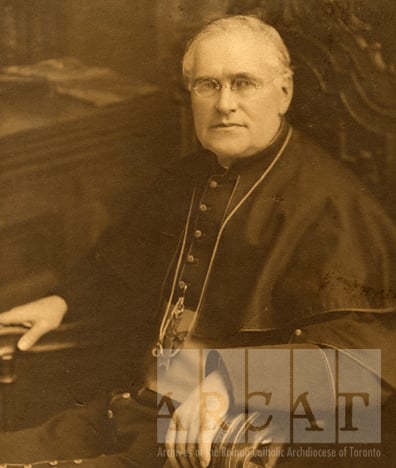 Archives of the Roman Catholic Archdiocese of Toronto, PH 08/03P
Photograph of Archbishop McNeil by G.G. Wadds Vancouver,
[between 1910 and 1912]
23 Nov 1851 | Date of Birth
12 Apr 1879 | Ordained Priest
06 Aug 1895 | Appointed Vicar Apostolic of Western Newfoundland and Titular Bishop of Nilopolis
20 Oct 1895 | Consecrated Bishop
28 Feb 1904 | Appointed Bishop of Saint George's
19 Jan 1910 | Appointed Archbishop of Vancouver
10 Apr 1912 | Appointed Archbishop of Toronto
22 Dec 1912 | Installed as 7th Ordinary of Toronto
25 May 1934 | Date of Death
Neil McNeil was born in Hillsborough, Nova Scotia, on November 23, 1851. He received his philosophical and theological education at the Propaganda College in Rome, and on April 12, 1879, he was ordained priest at the College. Father McNeil served as a professor and later rector of St. Francis Xavier College, Antigonish, from 1880 until 1891. He was also pastor of two Antigonish parishes.
On August 6, 1895, Father McNeil was appointed Titular Bishop of Nilopolis and Vicar Apostolic of St. George's, Newfoundland. He was consecrated on October 20, 1895 by Bishop John Cameron of Antigonish. Bishop McNeil became St. George's first Bishop on Feb. 8, 1904. On January 19, 1910, Bishop McNeil became Archbishop of Vancouver.
Most Reverend McNeil was appointed to the See of Toronto on April 10, 1912. The first years of his administration were spent completing St. Augustine's Seminary and the Canadian Catholic Church Extension Society, both founded by his predecessor. The Seminary was opened and dedicated on August 28, 1913 by Archbishop McNeil with great ceremony and fanfare.
Archbishop McNeil's administration of twenty-two years witnessed the doubling of the Catholic population, the creation of thirty new parishes, and an increase in clergy serving the Archdiocese. Parish communities for non-English speaking immigrants were created throughout the city.
Archbishop McNeil also campaigned for new legislation to ensure the fair distribution of taxes to separate schools, and laboured to promote good relations between Catholics and Protestants. His Grace personally gave to anyone in need and also created the Federation of Catholic Charities which cooperated with Protestant agencies. The China Mission Seminary (later the Scarborough Foreign Missionary Society) was established at McNeil's request, as was the Newman Club.
On May 25, 1934, Archbishop McNeil died and was buried at St. Augustine's Seminary. His twenty-two year episcopate was one of unprecedented expansion.