​Archbishop of Toronto 1934-1971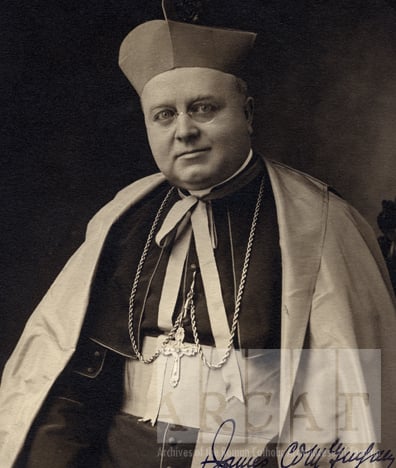 Archives of the Roman Catholic Archdiocese of Toronto, PH 09/05P
Photograph of Archbishop McGuigan by G. Felici, Rome [ca. 1946]
26 Nov 1894 | Date of Birth
26 May 1918 | Ordained Priest
30 Jan 1930 | Appointed Archbishop of Regina
15 May 1930 | Consecrated Bishop
22 Dec 1934 | Appointed Archbishop of Toronto
20 Mar 1935 | Installed as 8th Ordinary of Toronto
18 Feb 1946 | Elevated to Cardinal
18 Feb 1961 | Resigned as Ordinary; Coadjutor Archbishop was Appointed
30 Mar 1971 | Retired
08 Apr 1974 | Date of Death
James Charles McGuigan was born in Hunter River, Prince Edward Island on November 26, 1894. He studied Philosophy, Theology and Canon Law at Laval University and the Grand Seminary in Quebec, and was ordained on May 26, 1918 in Rustico, P.E.I. Father McGuigan served as a professor at St. Dunstan's University, Charlottetown for one year before becoming Secretary in 1919 to Bishop Henry J. O'Leary of Charlottetown, later Archbishop of Edmonton. Father McGuigan held the positions of Vice-Chancellor, Vicar General, Rector of St. Joseph's Seminary and St. Joseph's Cathedral while in Edmonton. He also earned his post-graduate degree in Canon Law in 1927.
On January 31, 1930, Father McGuigan was appointed Archbishop of Regina, Saskatchewan, and was consecrated by Archbishop O'Leary on May 15, 1930 in Edmonton. During his five years in Regina, Archbishop McGuigan reduced the diocesan debt and founded numerous Catholic institutions.
Archbishop McGuigan was appointed to the See of Toronto on December 22, 1934. After eight years, the diocesan debt had been reduced by half. Successful campaigns for St. Augustine's Seminary, Catholic charities, high schools, and diocesan expansion were conducted. After World War II, Toronto was flooded with immigrants and many national parishes were created and staffed with ethnic priests.
On February 18, 1946, Pope Pius XII raised Archbishop McGuigan to the Sacred College of Cardinals, with his titular church being Santa Maria del Popolo in Rome. In the process, Cardinal McGuigan became Canada's first English-speaking Cardinal. During Cardinal McGuigan's episcopate, the Diocese of St. Catharines was erected from the archdiocesan territory located across Lake Ontario, on the Niagara Peninsula.
Cardinal McGuigan's labours took their toll and in 1961, Philip Pocock was named Coadjutor Archbishop to assist His Eminence in the administration of the Archdiocese. Cardinal McGuigan resigned as Archbishop on March 30, 1971 and died on April 8, 1974. He was interred in Regina Cleri Cemetery at St. Augustine's Seminary.