​Bishop of Toronto 1968-1978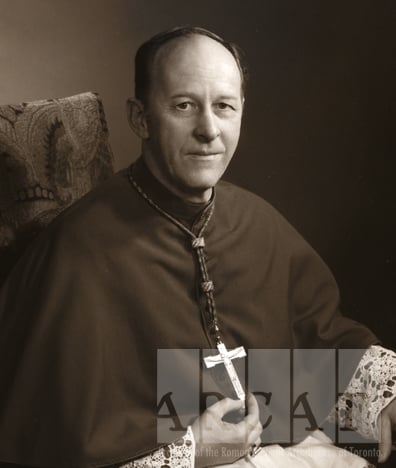 Archives of the Roman Catholic Archdiocese of Toronto, PH 75/14P
Photograph of Bishop Fulton by Cavouk Photographic Studio,
Toronto, [between 1968 and 1978]
13 Jan 1918 | Date of Birth
07 Jun 1941 | Ordained Priest
28 Dec 1968 | Appointed Auxiliary Bishop of Toronto
06 Jan 1969 | Consecrated Bishop
07 Jul 1978 | Appointed Bishop of Saint Catherines
02 Feb 1994 | Resigned
11 Nov 2002 | Date of Death
Thomas Fulton was born in St. Catharines on January 13, 1918. He attended St. Nicholas Separate School and St. Catherine's Collegiate Institute in St. Catharines before entering St. Augustine's Seminary in 1935. He was ordained on June 7, 1941 by Archbishop James C. McGuigan in St. Michael's Cathedral.
From 1941 to 1945 Father Fulton assisted at St. Catherine's Cathedral, St. Catharines, St. Paul the Apostle Parish, Toronto and St. Vincent de Paul Parish, Toronto. Father Fulton attended the Catholic University of America in Washington D.C. from 1945 to 1948, graduating with a Licentiate and Doctorate in Canon Law.
Upon his return to Toronto in 1948, Father Fulton served as assistant to Monsignor Francis Allen, Chancellor, for a month and was then appointed Secretary of the Toronto Provincial Tribunal. He also served as assistant pastor at St. James Parish until 1951 when he was named Vice-Chancellor. In 1952 he became Chancellor and on January 30, 1955 was invested as a Domestic Prelate. Monsignor Fulton was appointed Archdiocesan Consultor in 1955 and Archdiocesan Director and Secretary of the Society for the Propagation of the Faith in 1956. In September of 1957 he was appointed Vice-Officialis of the Toronto Regional Marriage Tribunal. In the early 1960s, Monsignor Fulton was appointed to the Board of Directors of the Council of Catholic Charities, the Archdiocesan High School Board and the Council of Administration for the Archdiocese, and elected a member of the Priests' Mutual Aid Society Committee.
Monsignor Fulton was elected titular Bishop of Cursola and Auxiliary to Cardinal McGuigan on December 28, 1968. He was consecrated in St. Peter's Basilica, Rome on January 6, 1969 by Pope Paul VI who was assisted by the titular Bishop of Iconium, Sergio Pignedoli, former Apostolic Delegate to Canada, and the titular Bishop of Serdica, Ernesto Civardi. Bishop Fulton assisted Cardinal McGuigan, Coadjutor Archbishop Philip Pocock and Auxiliary Bishop Francis Allen with their episcopal duties while continuing to serve as Chancellor of the Archdiocese.
On July 7, 1978 Bishop Fulton was appointed Bishop of St. Catharines. He was installed on August 29, 1978. He resigned his bishopric in February of 1994. On November 11, 2002 Bishop Fulton suffered a heart attack and died at the age of 84 in Fort Erie, Ontario. He was interred at Victoria Lawn Cemetery in St. Catharines.