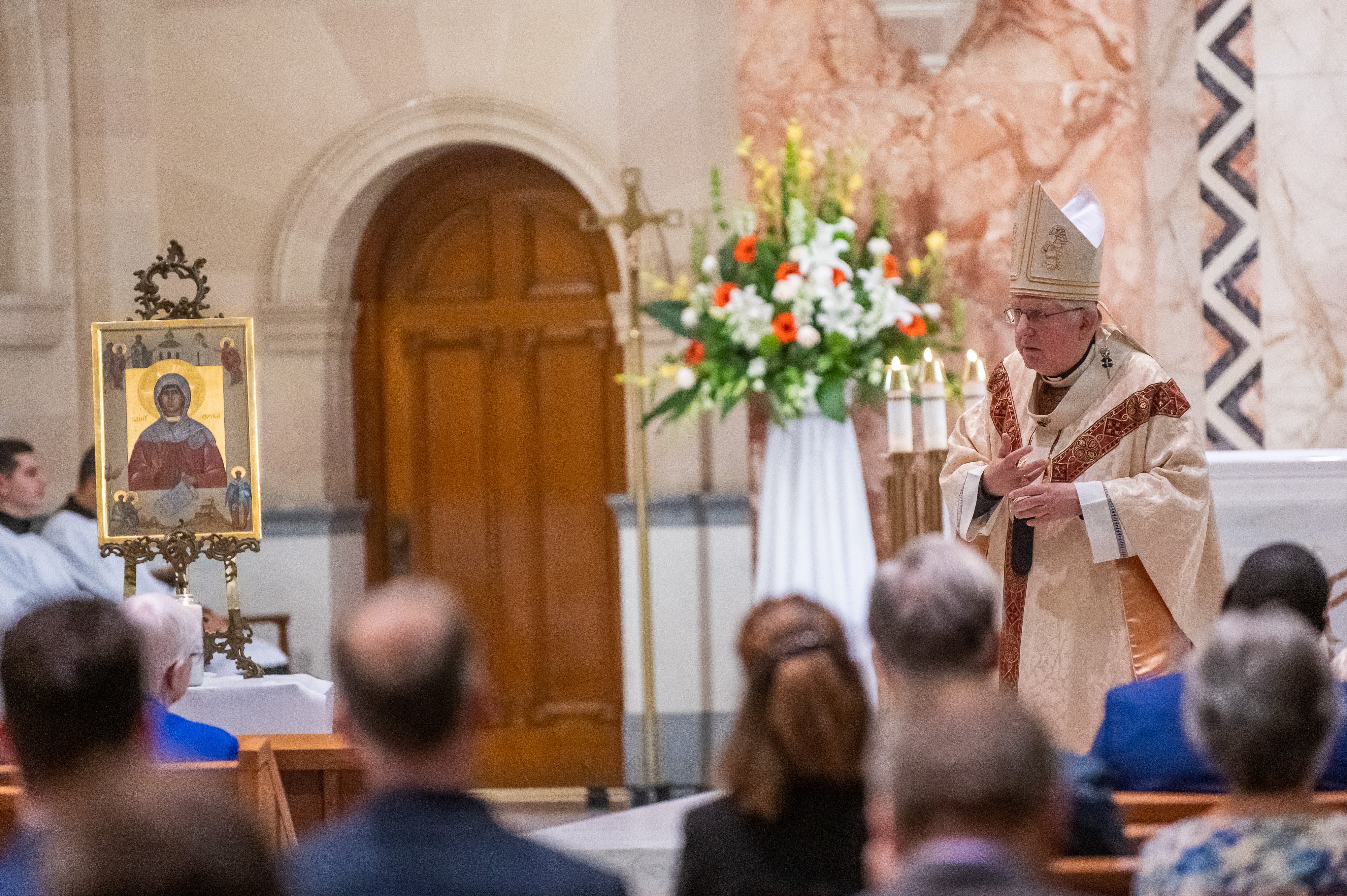 September 24: a day of Consecration

The Saint Monica Institute for Education and Evangelization was founded by Archbishop Thomas Cardinal Collins to provide formation, support communities, and discussion venues for policy consideration for Catholics called to witness in education, parish life, family life, and the public square. In conjunction with partners inside and outside the Archdiocese of Toronto, we are preparing and have begun to offer courses, workshops, certificate programs, retreats, and roundtable discussions for Catholics in all walks of life. We hope to greet you wherever you are, share whatever formation will help you best, and send you back into the world with the knowledge, confidence, and support you need to advance the work of the Church in gathering souls gently to the gate where the Shepherd waits.

The Institute was formally launched on Saturday, September 24, with a full day of conversation among key contacts and partners in each of our primary fields, crowned by the blessing of a new, original Icon and a Mass of Consecration celebrated by Cardinal Collins, Monsignor Robert Nusca, and other priests of St Augustine Seminary and the Archdiocese of Toronto. It was a beautiul day for the birth of what we hope will become a truly ground-breaking initiative.

The breaking of new ground produces dust. Please pardon ours as we continue planting, pruning and shaping new programs designed to bring forth new fruit from the Lord's vineyard.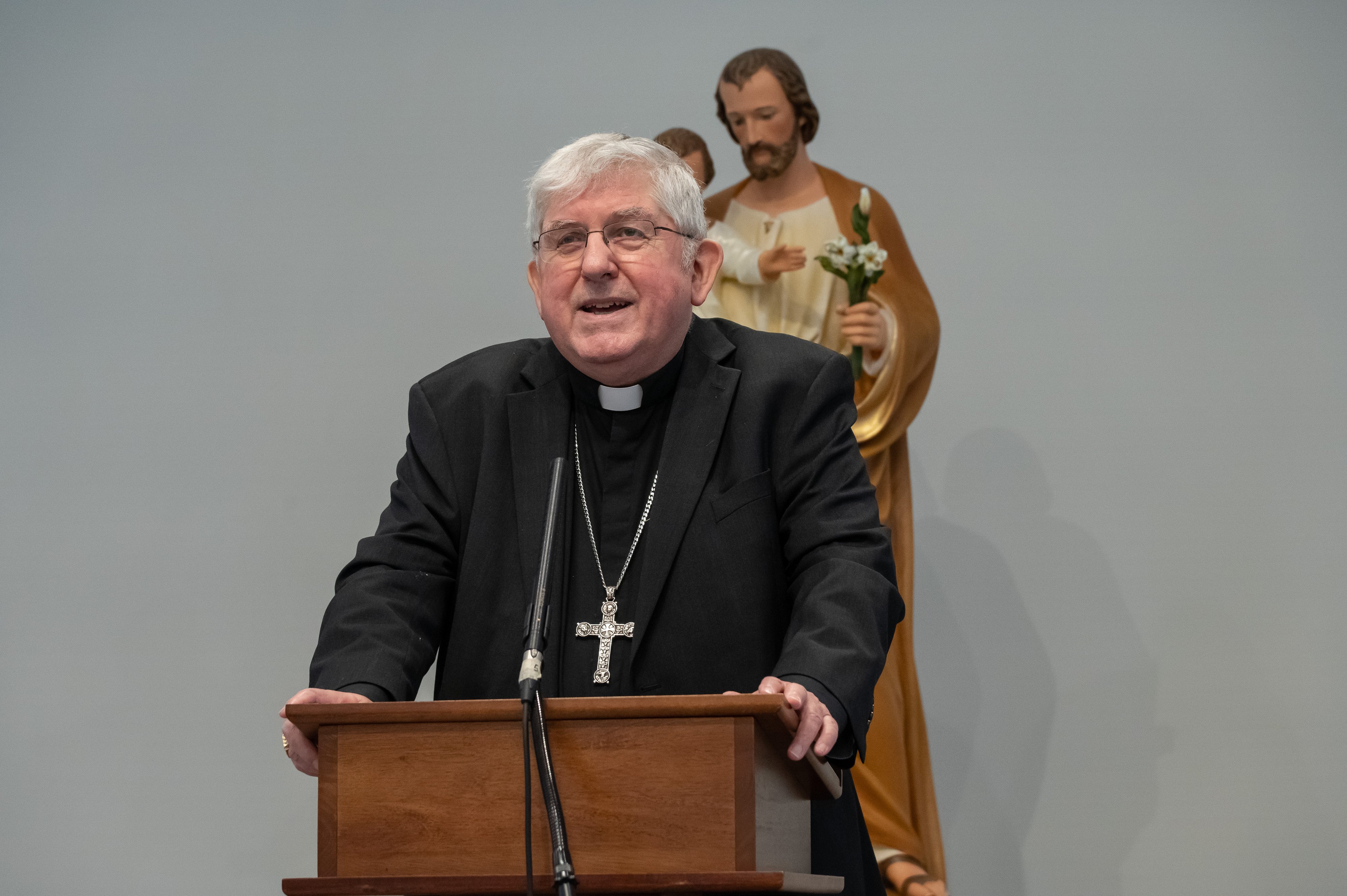 The Consecration Day Conference
Consecraton Day began with a gathering of representatives from more than sixty Catholic organizations active in a diverse range of ministries - from public, private, and home-based education; catechesis; family life; parish outreach; health care; publishing and media; and law; to evangelization through Catholic social teaching. Brief presentations pertaining to topics in the Institute's primary facets were interspersed with time for conversation and networking. As Cardinal Collins mentioned in his opening remarks, the Institute's mission includes networking, coordination, and support across the Catholic world in addition to formation for joyful and practical witness within the world, that "we might all meet at the same table, as a part of the communion of saints."
---
Let us be gratified by way the grace of God is working here.
Christus vincit!
The full opening remarks of Cardinal Collins are available here.
---

1st Session: Catholic Education
Renowned educator Dr Ryan Topping of the Newman Theological College in Edmonton, Alberta, spoke of the many challenges facing parents and educators in today's aggressively secular world, and offered six reasons for hope and signs of encourgement for Catholics working in the field of cultural renewal, and particularly in education.
---
Can young people remain faithful among faithless faculties?
Dr Topping's address is presented in full here.
---

2nd Session: Family and Parish Life
Co-Directors Dr. Connie Price and Patrick Douglas of the Office of Formation for Discipleship of the Archdiocese of Toronto were joined by Mrs. Carissa Douglas. Together they explored the mission and the offerings of their Office; the development of a common language of faith and life and formation in the parish, in order to promote fruitful dialog between members of different parishes and ministries; and the importance and development of Catholic family life, and avenues for formation and cooperation in the future.
---
We, the laity, are meant to be the leaven of Christ in the world.
How are we called to to serve?
The full richness of this beautiful presentation can be found here.
---

3rd Session: Witnessing in the Public Square
An Angus Reid poll suggests that fewer than twenty percent of young Canadian adults consider themselves religious. This remarkable panel, consisting of Maria Lucas, JD; Robin D'Souza, PhD; Samantha Rossi MD; political policy advisor Peter Copeland, and Executive Director Emeritus Brendan Steven of Catholic Conscience; describe the challenges they face as faithful Catholisc professional in a sometimes hostile world, and ways in which they hope to deal with it.
---
To be young and Catholic today is to choose it, and to choose it depite all the challenges that exist around it… We're in a time for saints….
The entire remarkable conversation is available here.
---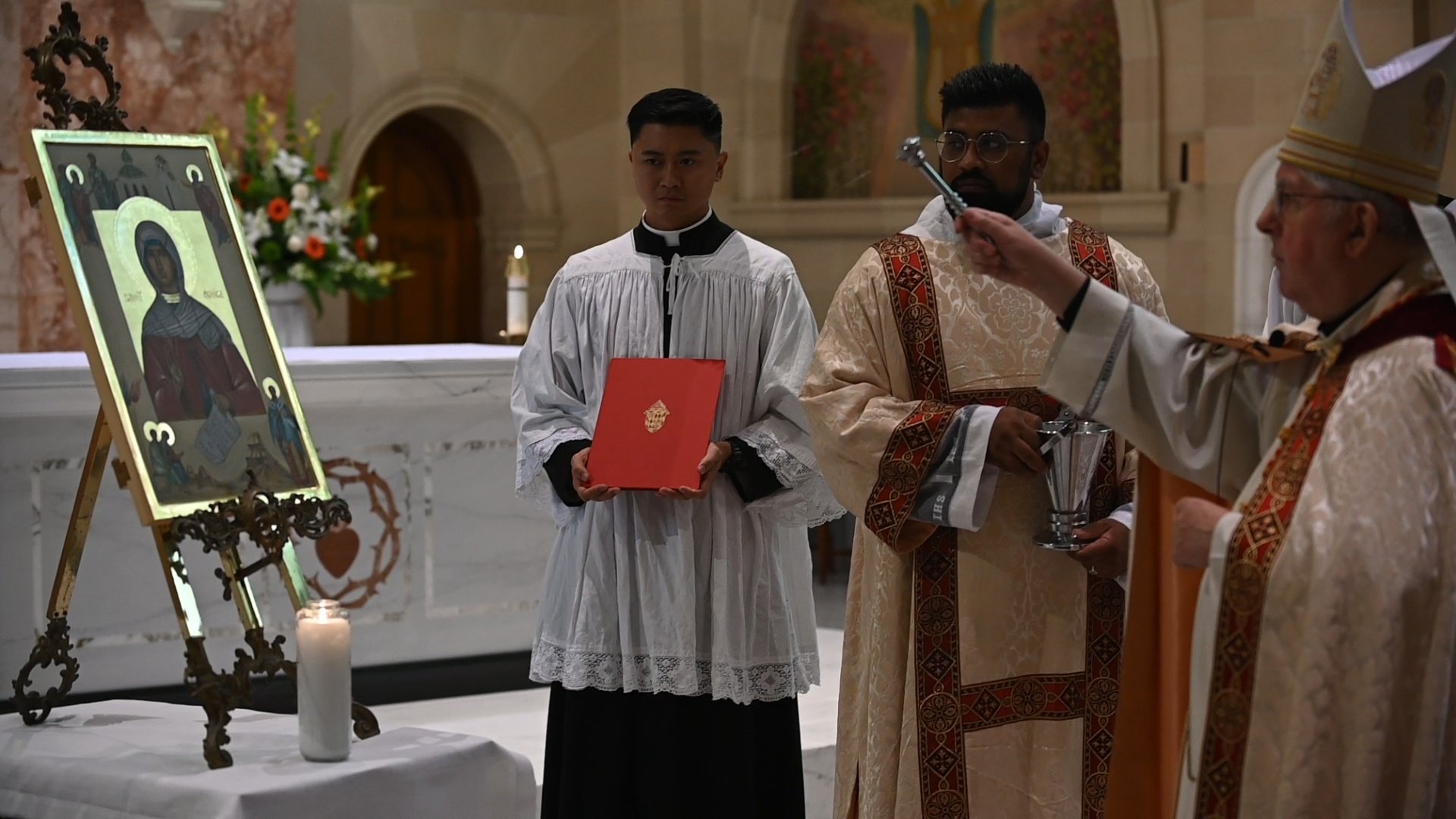 Icon Blessed
An important part of our launch event was the blessing of a new icon of St Monica, written especially for the Institute by Polish artist Maria Papuga. In the central panel Monica rejoices in the reception of her prayers, the anguish of which have brought about the conversion of her son St Augustine after years of tireless pursuit. The four corner images are associated with the Institute's four branches of evangelization:
The family is represented by St Augustine's adult baptism under the sponsorship of his mother, in the upper left.
The parish is represented by St Monica bringing offerings to her parish church in Rome, while she followed Augustine in his travels and his secular studies, praying for him fervently, in the upper right.
Education is represented by Monica and her son during their sessions in the gardens at Rus Cassicacum, while she served as his catechist, in the lower left.
The public square is represented by St Ambrose, Archbishop of Milan, who had served as a public official until his election as bishop of Milan and remained active in public discourse while bishop, and who was instrumental in St Augustne's conversion, in the lower right.

Blessing and Consecration Mass
A beautiful Mass of consecration, preceeded by blessing of the Icon and blessed by the voices of an akathist choir.
Building from the Mass's readings, his Eminence led us to reflect on wisdom: "Wisdom is what we need, wisdom to live. Wisdom to navigate through the tempestuous seas in which we are placed, to deal with the storms of life we find within this society and in the Church, and in our hearts… Wisdom that is intelligence, understanding learning, tempered by divine grace and human experience, especially the experience of suffering."
---
Teach us, O Lord, the shortness of life, that we may gain wisdom of heart.
The entire Mass of Consecration is available here.
---