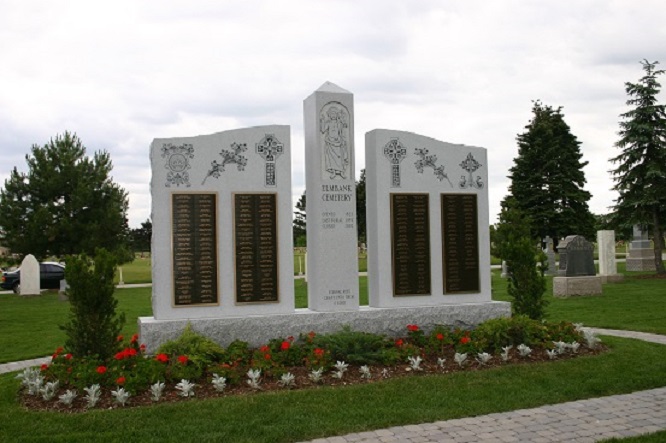 Design Process
The memorial design was decided upon by the Archdiocese of Toronto with the consultation of the many identified descendants.
Bishop Michael Power, the first Bishop of Toronto, directed that all cemeteries erected within the boundaries of the Diocese be places of burial for all Catholics and not specific to any particular ethnic group. While historical evidence supports the fact that Elmbank was a mission for all, regardless of ethnic background, it was deemed important to pay tribute to the majority Irish population within the Elmbank Mission boundaries. This tribute is provided through the addition of celtic crosses that are included as part of the overall symbolism of the monument.
After much deliberation and consultation, the monument inscription is: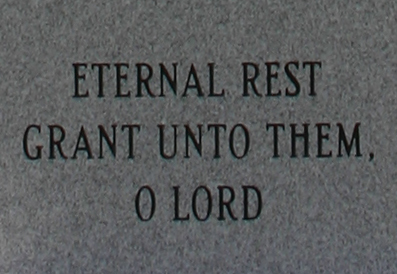 Eternal rest grant unto them, O Lord
Description of the Monument
The height of the monument is 8', with a width of 13'. The stone material and shape was selected to be in concordance with existing monuments. Symbols associated with the history of the Elmbank Mission and its people are engraved on the front and back of the memorial monument.

Bronze plaques record the names of the individuals buried in the Cemetery. The names represent approximately 60% of the total burials.

The centrepiece reproduces a depiction of the Resurrected Christ on the ceramic plaque found on the rectory site during the archaeological investigation. Since the plaque was found in the rectory, the site of many community gatherings, it would have been familiar to many members of the Elmbank Mission.

The Catholic members of the Elmbank Mission would have been buried in the hope of the Resurrection; thus the Resurrected Christ has been selected as the Elmbank Cemetery symbol.

​The symbol on the far left of the monument is a duplicate of one found on a cross which formed the coffin plate of a person buried in the Cemetery. The symbolism alludes to the fact that the people of the Elmbank Mission lived during a period when Canada held closer ties to the British Empire.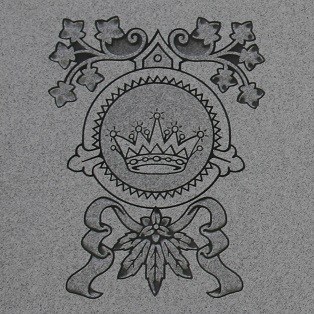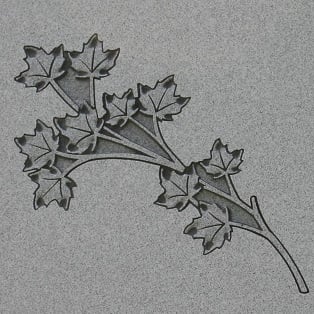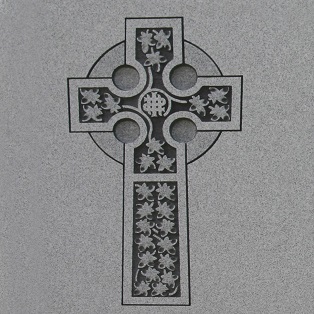 The symbol located on the far right, a circled cross, is based on the companion to the one on the far left, found on the same brass cross plate. Its original rosettes are replaced by trilliums to represent the Province of Ontario.