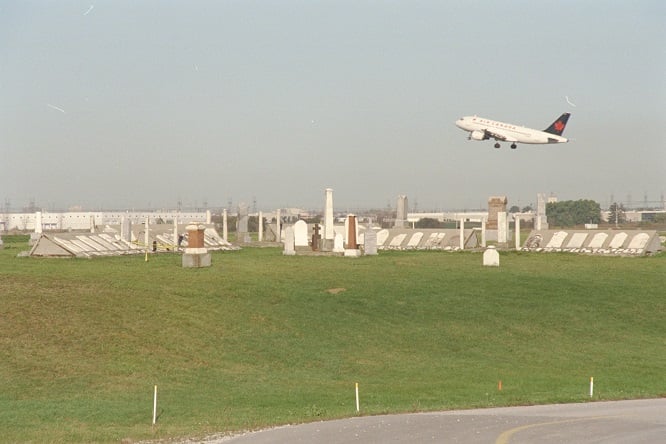 The Elmbank / Fifth Line Cemetery opened in 1833 serving many of the earliest Catholic settlers residing in rural areas to the northwest of Toronto. Since the cemetery's closing in 1939, it has been completely surrounded by the secure zone of Lester B. Pearson International Airport (as it became known in 1984). By the 1990s, with the rapid growth of air traffic and passengers, the airport needed to expand to reduce terminal and runway congestion. Expanding the existing airport facilities was the most viable solution. Plans to permit the building of a new east-west runway along with its associated taxiway showed that the construction would directly affect the old cemetery. Accordingly, application was made to the Province of Ontario to permit the relocation of the burials to the consecrated ground of Assumption Cemetery in nearby Mississauga.


Canon Law and customs of the Roman Catholic Church call for the treatment of all burial places with the human dignity and respect due to them. Thus, in conjunction with the Greater Toronto Airport Authority and the highly skilled archaeological team, Archaeological Services Inc., the Archdiocese of Toronto ensured that the relocation would preserve the burials in a safer, more accessible, and more dignified setting.The Elmbank Cemetery was fully relocated to the Assumption Cemetery by October 2001. Records and information provided from descendants as well as the history of the Mission were used to restore the site in a way that was as close as possible to the original placement. Great attention was paid in maintaining closeness of family members wherever it was known.

Genealogist Brian Gilchrist was given the responsibility by the Greater Toronto Airport Authority to seek out living descendants to inform and consult with them. Genealogical information was gathered along with the recollections of descendants, which offered an opportunity to ensure the preservation of a history that might otherwise have been forgotten. With input from descendants and many interested members of the community, an Archdiocesan Committee worked to erect a memorial in Assumption Cemetery. This memorial monument is a beautiful, dignified and expressive structure serving as a fitting reminder of these people and their place in history.
On Saturday, July 10, 2004, a mass and a blessing were given at the new site of Elmbank in Assumption Cemetery in Mississauga. Msgr. John Murphy, Chancellor of Spiritual Affairs of the Archdiocese of Toronto, was the main celebrant, joined by Father Mike Doyle, C.S.Sp., Father John Cotter from Michigan, and Deacon Bert Sandford.
The Elmbank/Fifth Line Mission churchyard is the largest historic cemetery in Ontario ever to be relocated. It is a significant part of the history of the Archdiocese of Toronto, of the Toronto Region, of Ontario, and of Canada.