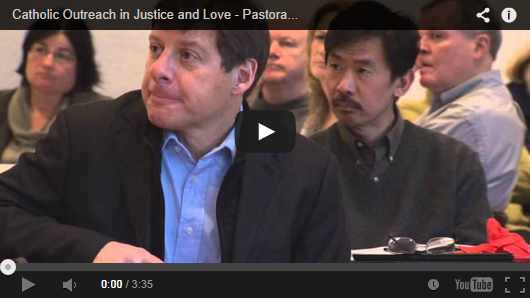 "The spirit of the Lord God is upon me, because the Lord has anointed me; he has sent me to bring good news to the oppressed, to bind up the broken-hearted, to proclaim liberty to the captives, and release to the prisoners."
– Isaiah 61:1
Our pastoral plan challenges us to witness and serve in diverse ways and to be advocates where injustice occurs: through pastoral care to those who are poor and marginalized, to students on campus, to those who are imprisoned, seeking refuge or suffering physically or spiritually. We can do all of this by working with our parishes, lay movements, Catholic institutions, chaplaincies and various pastoral services. We are grateful for the good works accomplished through Catholic Charities and ShareLife, yet we need to do more. We hear the words at Mass, "Go in peace, glorifying the Lord by your life". How can we be the hands and face of Jesus in our community?​
Goals
Ensure effective outreach initiatives of justice and love through catholic charities
Provide effective pastoral services, chaplaincies and pastoral care ministry
Promote effective social justice advocacy
Strengthen the outreach initiatives of parishes through greater collaboration with the archdiocese.
Questions for Discussion
To be used at parish meetings, personal reflection, etc.​
What does it mean to "show the presence of Christ" to the poor and marginalized? What is the motivation to perform good works?
Jesus' coming is referred to as "the Word becoming flesh" (John 1:14). How do we "enflesh" the Word?
Who can be the recipients of our social justice efforts (think local, regional and global)?
In what ways can we work to make our parish outreach and justice initiatives more fruitful? Are there areas that we should devote more or less time to?
In the call to give of our time, talent and treasure, is there one area that we can work on strengthening?
How can different groups within our parish collaborate to strengthen justice and outreach initiatives in our community?
Recall a moving example of service and outreach that was transformative for you.
Prayer​
L​ord God, you are the perfect example of love and justice. We acknowledge that our broken world is in need of your grace. As people entrusted with your message of love, fill us with grace to bring your good news to the world by giving generously of our time, talent and treasure. Amen.
Prayers of the Faithful​​
We pray for the Archdiocesan Pastoral Plan and its call to reach both the gathered and scattered in our community. May we be filled with a new desire to be the hands and feet of Christ on this earth as we reach out to the marginalized and spread the Gospel message. We pray to the Lord.
Ways to Serve in our Archdiocese:​​
Archdiocese of Toronto Charitable Partners​
Additional Resources