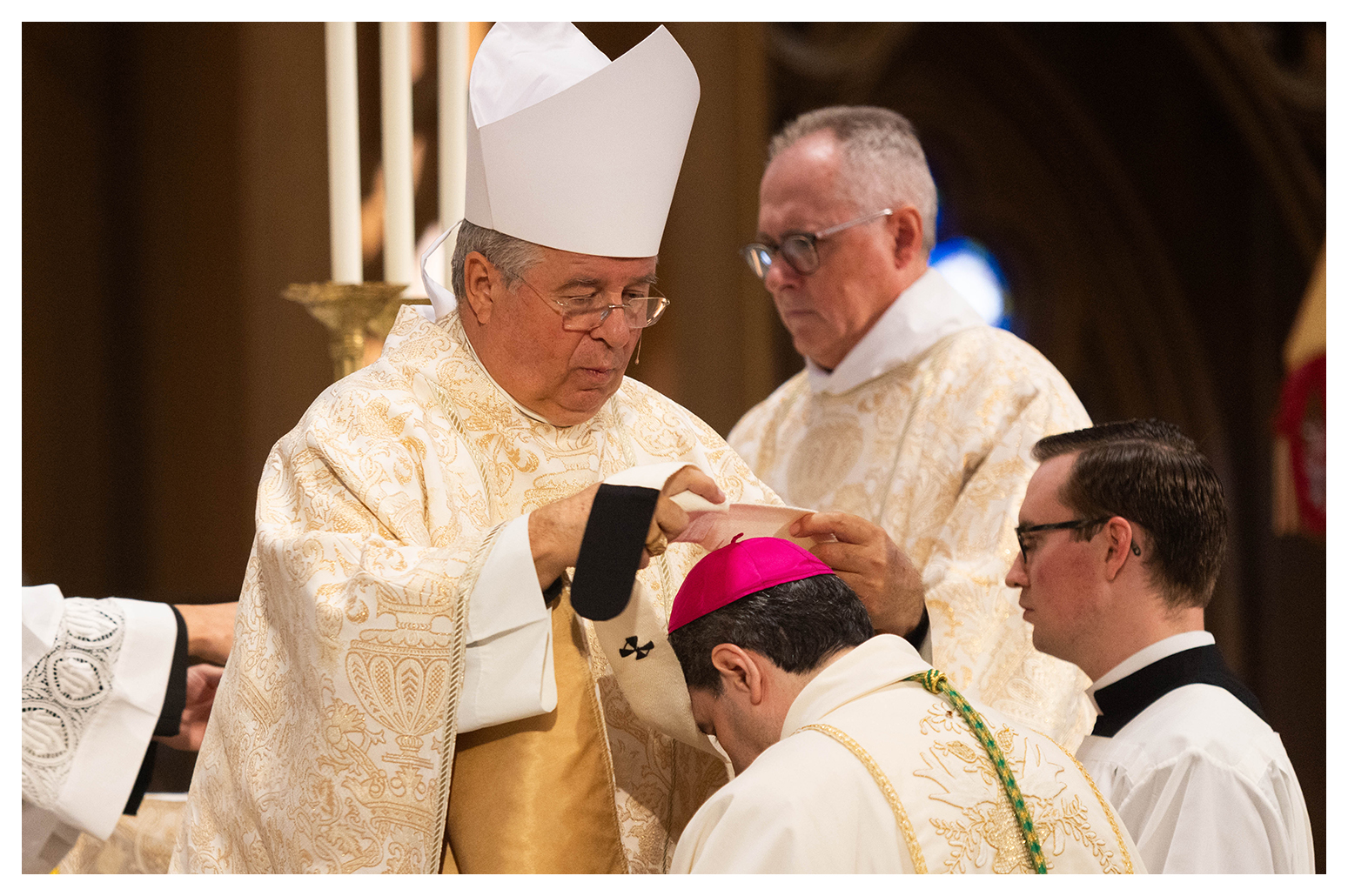 More than 1,500 Catholics from across the Archdiocese of Toronto came together on September 29 to celebrate the Solemnity of Saint Michael and the Conferral of the Pallium upon the Archbishop of Toronto, the Most Rev. Francis Leo. 15 bishops, 130 priests, religious women and men along with families and young people who recently attended World Youth Day 2023 in Portugal joined in the celebration. Also in attendance were numerous representatives from Catholic organizations throughout the archdiocese.
Saint Michael serves as the patron saint of the Archdiocese of Toronto, with this special day of recognition celebrated each year on September 29. Saint Michael features prominently in Toronto's history, with churches, schools, hospitals and social service agencies bearing the saints' name and serving as a witness of the Catholic community's presence and ministry in Canada's largest city.
Pope Francis' representative in Canada, the Most Rev. Ivan Jurkovič, was present to confer the pallium upon Archbishop Leo. The pallium, a stole-like vestment worn by Metropolitan Archbishops worldwide, was blessed by Pope Francis this past June during a Mass at St. Peter's Basilica in Vatican City. The vestment, made of wool from two lambs blessed by the pope on the Feast of St. Agnes each year, symbolizes the archbishop's unity with Pope Francis as well as the bond between the shepherd of the faithful and his flock.
In his homily, Archbishop Leo Jesus spoke about Jesus, as the Good Shepherd:
"Christ is our first and best Good Shepherd, better yet, as St. Peter puts it in his letter (1 Pt 2:25): he is the Shepherd and Bishop of our souls. Imagine that. This is a beautiful way of understanding the Lord's care for us – he shepherds us and oversees our hearts, he looks after our wellbeing and guides our steps – he lets us rest in green pastures; he leads us to quiet waters; he restores our soul, anoints our head with oil and our cup overflows (cf. Psalm 22)."
You can read the full text of Archbishop Leo's homily here. To watch the archbishop's homily, click here.
Following the celebration, a reception took place in the St. Michael's Cathedral Basilica courtyard.
May we continue to pray for Archbishop Leo and all those who serve as shepherds for our faith community. St. Michael, the Archangel, pray for us!
---
Additional Photos