Catholic Charities of the Archdiocese of Toronto (CCAT) have announced the creation of new scholarships to support learners from a host of different backgrounds and capacities including newcomers and people seeking refuge in Canada, outstanding youth, and adults continuing their education to enhance their skills in social work, community development and social services.
Beginning in 2024, five new scholarships, in the amount of up to $5,000 each, will be granted annually to recipients living, studying, or working within the Archdiocese of Toronto who come from one of four categories:
The Sisters of Service Scholarship will be given to two recipients who are new immigrants or refugees;

A Palliative Care Scholarship which will be awarded to one recipient who is studying Palliative Care and/or Gerontology;

The Indigenous Community Youth Leadership Scholarship will be given to one recipient;

The Lifelong Learner Scholarship will be awarded to one recipient.
In addition, the Michael Fullan Community Service Awards will be given annually to recognize achievement in the human services sector and meaningful service to a local community within the Archdiocese of Toronto. The prizes are named after Fullan to recognize the extraordinary contributions he made to CCAT over his 29-year career as Executive Director before retiring earlier in 2023. The pool of those eligible for nomination will include both paid staff and volunteers.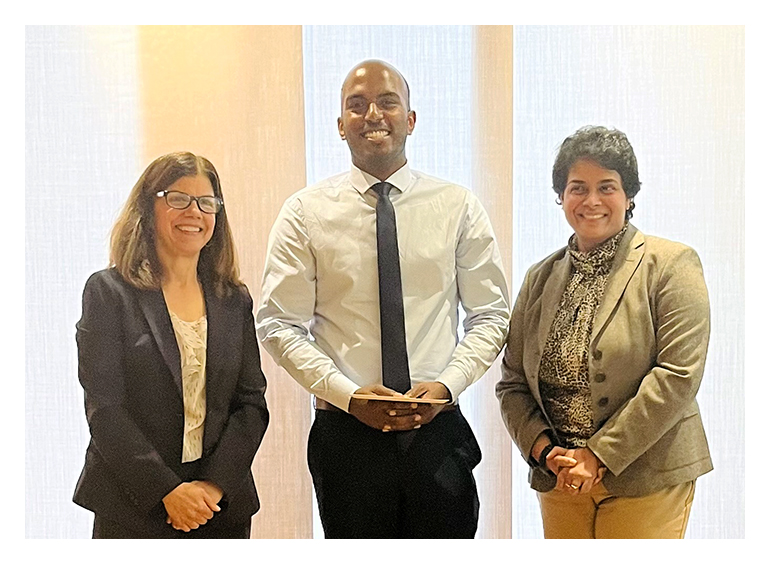 "It is gratifying to be able to recognize those who make such important contributions to our neighbours with a sign of our appreciation," said CCAT Executive Director Dr. Agnes Thomas, "while these new scholarships reflect the importance of encouraging and supporting communities historically underrepresented in the social services world, as well as encouraging those who are keen to respond to the growing need for elderly and end-of-life support."
Also announced were the recipients of the existing Father Paul Lennon/Doreen Cullen Social Work Scholarship for 2023, Ronald Perinpanayagam and Carmen Underwood. The two received their awards during Catholic Charities week. "We are delighted to recognize Carmen and Ronald's commitment to serving others," said Thomas.
(Pictured left to right: Maureen Leon-Board President of CCAT, Ronald Perinpanayagam-Scholarship Winner, and Agnes Thomas-Executive Director of CCAT.)
Perinpanayagam is entering his second year of the Master of Social Work program in Windsor with a focus on end-of-life care, gerontology and social services management. His volunteer experience includes time at Journey Home Hospice in Toronto, as well as at McMaster University with the Department of Family Medicine and Cardiology.
Underwood's volunteer experiences include service at the North Simcoe Rotaract Club in Midland where she helps plan different activities, and also through her placement with Catholic Family Services of Simcoe County.
For more details on how to apply, please check out the CCAT website.